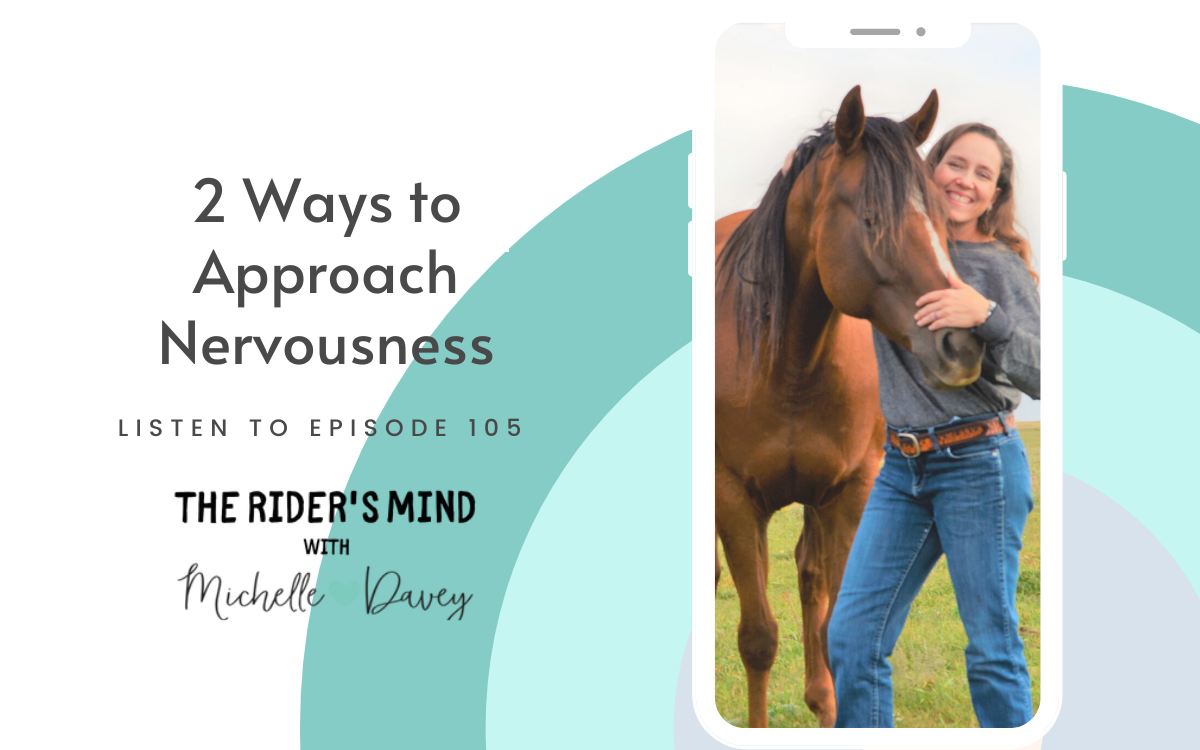 The Rider's Mind Podcast Episode 105: 2 Ways to Approach Nervousness
I get a kick out of reading all of the suggestions given when someone asks how to deal with nervousness. There are always lots of suggestions, but most of them are "first aid" responses. You can do first aid for nervousness when it hits, but you can also get to the root of the issue.  In this episode, I talk about both ways to deal with nervousness. 
Within the categories of first aid for nervousness and getting to the root of nervousness, there are lots of different strategies. The first aid fixes are quick fixes. Getting to the root of nervousness is more of a preventative approach. 
Some first aid tools for nervousness include:
Learning breathing techniques
Grounding yourself
Changing your perspective
Humming or listening to music
Wiggling your toes
Drinking or smoking before your run
Reading a book
Repeating affirmations or a quote
Many of these strategies are useful and have their purpose, but you can also go deeper in dealing with competition anxiety. 
You can get to the root of your nervousness and understand the reasons for your nervousness.

I teach riders how to get to the root of nervousness in my coaching group, Stride. We've learned about our nervous system. We work on dealing with limiting beliefs. We explore our fears. We learn how expectations can affect our performance. 
Getting to the root of your nervousness starts with having the presence and awareness to realize what you're carrying and what you're thinking. 
In Stride, we build confidence from the inside out. We want to make sure our confidence doesn't solely rely on the outcome of our runs. It's important to be able to find the lessons in our experiences. We also learn about our triggers and how to heal them. 
First aid tools are needed, but when you get to the root of your issues, there is overlap with other areas of your life. Our horses bring us to the work of finding the root of our nervousness, but there is a ripple effect into other areas of your life.  
I want you to learn more about the root cause of your nervousness. 
Join the Conversation

Join the discussion in the The Rider's Mind Community on Facebook. As a member of this community, you'll also get tips and videos from me. 
Want to connect or ask me a question? Find me on Instagram or Facebook.
I'm on Clubhouse too!  Find me @michelleadavey
Learn with Me

If you're looking to make changes to your mindset, be sure to sign up for my free Next-Level Mindset Mini Course.
You can also join Stride, my next-level barrel racing group. This group receives video training and coaching from me and Stride members have access to special guests. We work on becoming mindful barrel racers so we can show up, be present and perform with great partnership.