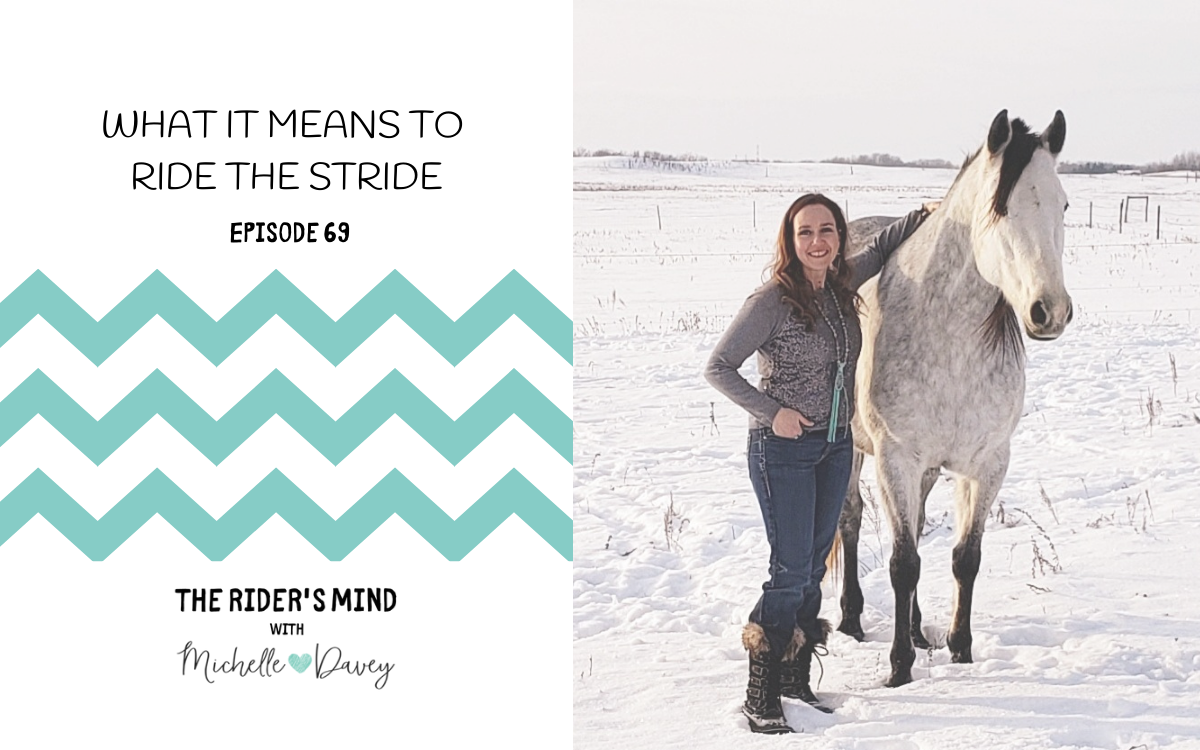 The Rider's Mind Podcast Episode 69: What it Means to Ride the Stride

Maybe you've wondered what I'm talking about when I say "Ride the Stride" or perhaps you've come up with your own meaning. In this episode, I'll share what it means to Ride the Stride. 
If you're on my email list or have listened to previous podcasts, you may have noted that I often close with "Breathe Deep, Stay Present, and Ride the Stride".
Here's the backstory of how I came up with this tagline and what it means to me:
Several years ago, I was watching Oprah interview a guest and she used the phrase "it seems like you've found your stride". The guest replied something like "I'm not sure I've found my stride; it's more like I'm floating down a river, handling the turns and riding the stream."  At the same time, I was creating a module for Mental Toughness Bootcamp.  I was thinking about "riding the wave" of life.  Around the same time, I was also inspired to start a clothing line, which turned into Stridewear.  "Ride the Stride" was my way of relating the message of "riding the wave" to horse people.  
The message is both literal and figurative. In the literal sense, I want to be breathing deeply and present for each stride of my ride. I want to feel my horse's feet land so I can place them and send cues at the ideal time. I believe a lot of feel comes from awareness and this awareness comes from being present. 
I also want to ride the stride during a barrel run. I want to finish the barrel turn before I'm up and riding to the next one .If I'm present and riding the stride to third barrel, my horse is more likely to be there too (rather than burning a turn and bowing off of third because he's been thinking about running home since before he got there). 
When you're riding the stride you're not looking behind you. You're not getting ahead of yourself.  You are present. 
Figuratively, this works for life in general (even when we're not in the saddle). We can get caught up in negativity from the past and anxiety for the future if we stray too far from the stride we are in.

In STRIDE, my next-level barrel racing group, members learn the Ride The Stride Process™  Through the lessons and tools I provide, Stride members are able to Ride The Stride in the arena and in life. This is core and foundational material that is available to all members, all the time. We have lessons on grounding, partnership attunements, meditations and all kinds of tools to get you into the present moment so you can ride the stride. You can join us next time Stride opens for enrollment. 
To conclude, join me in taking a big breath and setting your intention to be present.
Join the Conversation
Join the discussion in the The Rider's Mind Community on Facebook. As a member of this community, you'll also get tips and videos from me. 
Want to connect or ask me a question? Find me on Instagram or Facebook.

Learn with Me

If you're looking to make changes to your mindset, be sure to sign up for my free Next-Level Mindset Mini Course.
You can also join Stride, my next-level barrel racing group. This group receives video training and coaching from me and Stride members also have access to special guests. We work on becoming mindful barrel racers so we can show up, be present and perform with great partnership.