I feel like I could write a book on "building Squiggles". I've had this horse since she was born but it feels like we have packed half the chapters in just the last month since I wrote about her last. A lot of what happened between part 1 and 2 was really more about "building Michelle".
Since I last wrote, I did take the plunge and enter the CBHI Futurity in Ponoka, AB. The decision to enter came from my heart and was backed up with reason and logic. Several times I sat in quiet in what some might call a meditative state or an alpha state. Either way, it's a state I go to when I'm looking for clear answers whether it be from my heart or higher self. I ran several scenarios through my head and felt how they felt in my body. One was running in Ponoka and the other was staying home. Running in Ponoka was a much lighter feeling than staying home. I try my best to honor these feelings.   I asked other questions, like does Squiggles want to go? Is it safe and appropriate to run her there and to ask her to win? All systems were a go, so I trusted my intuition, paid the late fees and entered the event. Logic supported the efforts in that if nothing else, it would be good research for next year as I have another futurity horse coming up and she would be eligible for derby money.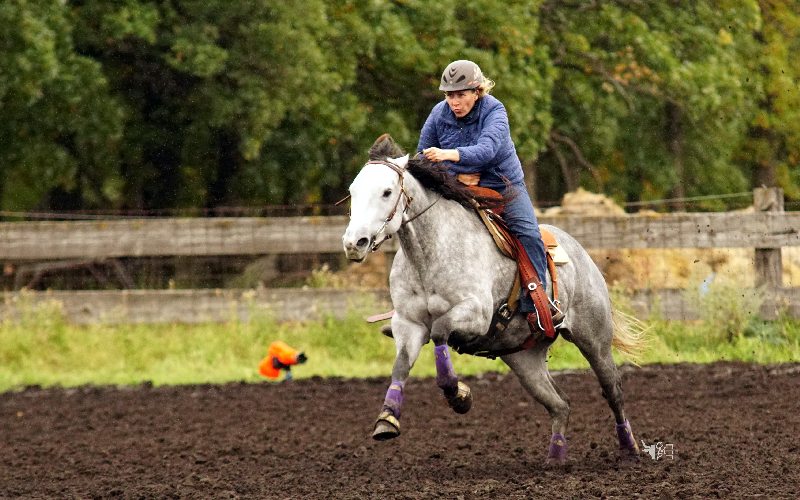 Before I had entered I was riding and practicing as if I was entering. I had gathered a tribe that would help me succeed. One thing that has been at the forefront of my mind all summer is how us barrel racers tend to go at things on our own so much of the time. We're an independent "I can do this myself" kind of breed as I mentioned in part 1. It's not easy for us to ask for help and it's not easy for us to admit we could use it. I am very energetically sensitive and I know who is good for my vibe and when, so I was very careful who I selected to be on my team. I am always very careful who I surround myself with and the times I do it. Sometimes I need the distraction others give me, sometimes I need to be by myself.
In part 1 I mentioned how I have been working with Andrea Udal of U1 Barrel Clinics. I want to emphasize if you want a fully engaged coach you must pay in one form or another, there needs to be an exchange of energy. They are valuable, and I received much more info than what I would have had I asked a quick question at a jackpot because we made a deal to exchange currency.
I do my own energy healing on my horses pretty much every time I ride, but I also received help in that area from Sheri Gibson from Head To Toe Healing who did cranial sacral work on Squiggles.  This isn't a modality I practice so it was a great compliment to other tools in my tool box.
I also added longtime friend Samantha Winslow of Interval Timing to the team as I quizzed her about strategy for the Ponoka set up. She is very passionate about what she does and it showed as she jumped right in with lessons from her online course Take Time Off The Clock (which I'm currently enrolled in and recommend…it is open for enrollment once a month). We did a crash course learning about how my horse was built and how that related to her best path to take to the barrels and around them. She also taught me about the difference in set up between the Westoba Ag arena and Ponoka setup and how I needed to adapt my turn at second barrel so I wasn't taking too many steps. As a trainer, I'm usually more about it looking pretty than clocking so this is really important info for me to add to my toolbox.
I was very lucky to have both Sam and Andrea watch my runs from the MBRA finals and also be with me in Ponoka. I believe in myself and I believe in my horse, but to have people on my team genuinely wanting to help me showcase my horse was an integral part of my success. I'm very grateful for their support as well as other members of the good vibe tribe. Looking at my interval reports from my first run in Ponoka, I was 0.6 seconds off the fastest times from the start line and around first and at second barrel where I "shut her feet off" as Andrea said, trying to not hit it, I lost 0.5 seconds even though she came back on it soft and quick. That's 1.1 seconds and I ran an 18.4. Squiggles ran as fast or faster than the fastest horses to third and home so I knew I had all the horse I needed I just needed to buck up and run to first. I really thought I was going for it the first run but laughed out loud at myself when I saw the video. Second is typically my best barrel as long as I can get her by it so I wasn't worried about that, I had freed her up and time my homework at the 6 am time onlys.
For my second run, I knew if I wanted any part of the pie I was going to have to step way out of my comfort zone and bring it. I saw a shooting star that morning that reminded me to shoot for the stars and I also saw a burst of blue and purple light in my left peripheral in the warm-up pen. I see energy all the time but this was so much more vibrant than usual. I knew when I saw this, that I was very well supported on all planes. I brought Squiggles energy up higher than I ever had and I had her keyed up and ready to roll. My eyes were as big as saucers going to first and I may have cursed in my head out of fear but after we got around first I knew we were in the hunt. My eyes were watering on the run home so I knew that it must have been fast (haha). We were a 17.66, my fastest time on a standard pattern and I did it on a home raised 5-year old that went to her first jackpot only 3 months prior. She really is my unicorn (meaning dreamy and perfect in all ways).
I'll talk more about Squiggles and how I trained her 15 minutes at a time and told her she was a champ since she was born another time. I'll also tell you how she's been my sanity this year and how I might have quit horses without her. Great horses make their riders look good, and feel good. I'm so grateful for her. I wouldn't be human if I didn't look at what I could have done better.
2018 CBHI SUPERSTAKES FUTURITY – MICHELLE DAVEY – CRIME N FAME from Samantha Winslow on Vimeo.
The freeze frame of my video catches me doing something red-handed that I was working at not doing, but it all worked out as it should and I'll do better next time. In the past, I would have been critical of myself at that moment (of getting up and going to two hands too soon), but I was very proud of myself that the voice in my head was much kinder saying "it's ok we're still awesome". To me, that's as big of a victory than actually doing what coach said.
I made mistakes, yes, but I also brought it. I dug deeper than I've gone in a long long time and I'm proud of that. I'm taking my money and running and not looking back. I'm not letting "the ego" (or anyone else) take that away from me. There may be a "next time", but no coulda shoulda woulda here.
The weeks leading up to the MBRA finals and the CBHI Futurity reminded me why I haven't set many goals lately. I get kind of obsessive about achieving them and making sure that if I didn't succeed it wasn't because I didn't put the work in or do my time. I was out in the rain and the snow preparing and I rode on days I never would have it I wasn't entered. There were a few times I wondered what I had gotten myself into. One of those times was getting up at 4 and 5 am to make the early morning time onlys that were an important part of my strategy. I wasn't going to miss an opportunity to place by being unprepared. It wasn't all about the riding leading up to the big finale, lots of the work I did was on me. Like doing push-ups and planks (with chocolate in my mouth because I'm all about balance). Actually, it was more about clearing my own limiting beliefs about being "big" and being seen. It was about activating affirmations for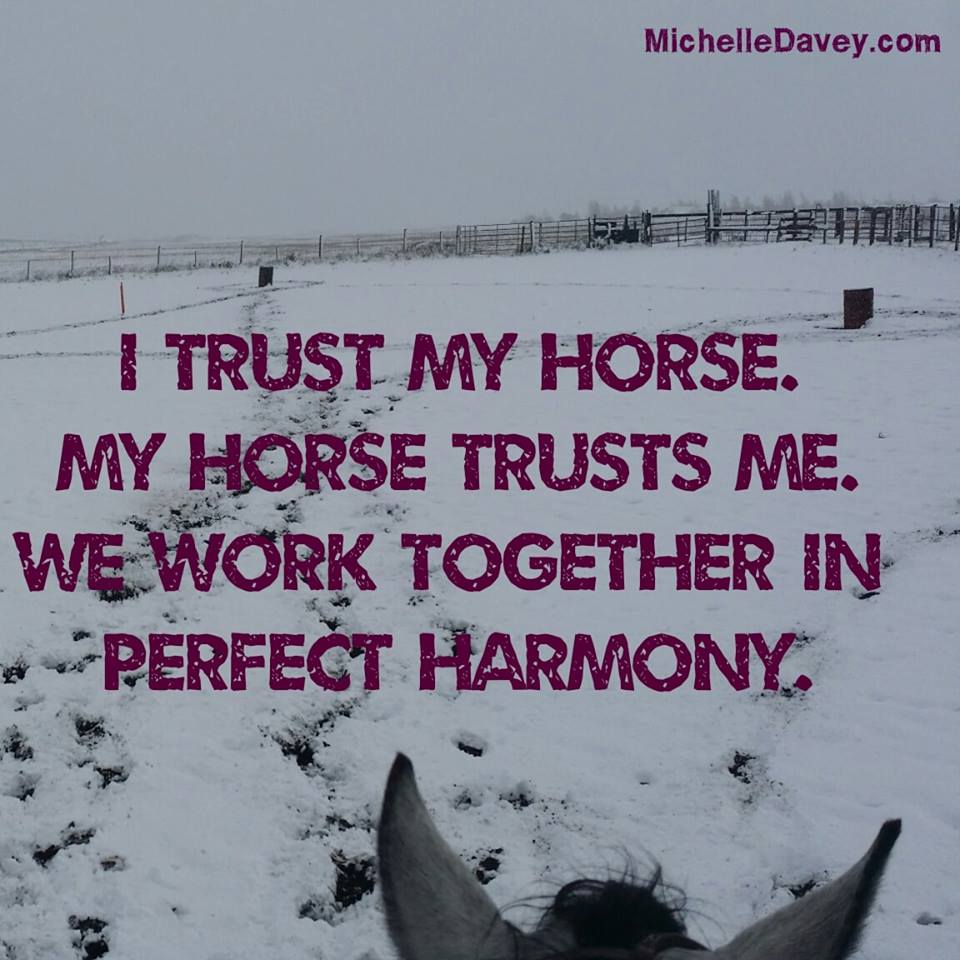 myself that "I love to go fast" "Fast is safe". You may have seen my mantra I shared that read; "I trust my horse, my horse trusts me. We work together in perfect harmony". I really felt that was true for us and is true for us and I don't think anyone that watches the video could dispute that.
Because I chose to travel by myself I had a lot of time to be by myself and do the "weird" things I like to do. Like meditate, that's not that easy to do with someone else in your 8 ft living quarters, so by design I was on my own. One of the messages I received while sitting with myself was that I needed to stop shrinking my energy so that I wouldn't be seen. For me, that's a subconscious thing I do to protect myself from the energy of others and to be "safe" and out of judgment. It's not logical, it's just what I do. The message was that I needed to expand my energy bigger than all the people in the building and bigger than the building itself. I imagined making my run like that and I also imagined receiving a big cheque and what I would write in my thank you post. When I imagined it, my smile was much bigger than real life, but in real life, I had to hold it just right to keep my tears of joy in.
Between the Rocking W jackpot, MBRA finals and CBHI futurity Squiggles and I won over $7000 in three weeks. I'm very happy for the money, but also very proud of my horse for making such nice runs and for getting better every time out. I'm happy I was able to ride at her caliber and help her display her talents. We peaked at a very good time during our final run at the futurity stakes money. We will continue to build on that run and I'm already excited to head back next year and take a run at the derby money. I am already imagining how that will go and how big my smile will be.   Maybe I'll actually jump in the hair and hoot and holler like I really wanted to. I'll bring the cow-bell.
It is my hope that by sharing my journey you will look at building your own tribe of support and you'll consider starting (or continuing) a practice of mental toughness through energy management and awareness and intuitive horsemanship.  I suspect I have a different approach than many others, but it's an approach I've been able to teach others and see results.  I teach a mental toughness boot camp each year and the next session will start to enroll in February. Until then, I hope you've read between the lines above and picked up some tips you can use right away.  If you want more, follow me and register for my newsletter, where you'll receive 6 mental toughness tips and more going forward, just for sharing your email address with me.