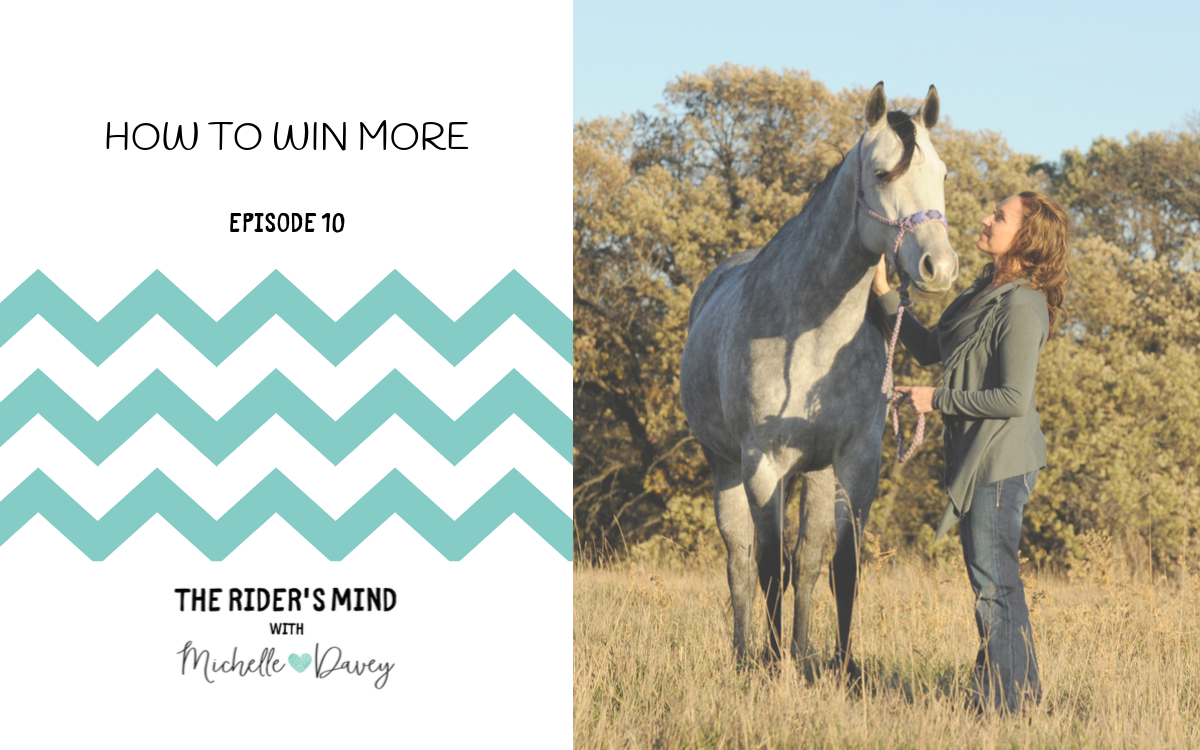 The Rider's Mind Episode 10: How to Win More
You know the saying, look after your nickels and dimes and the dollars look after themselves? Or look after your pennies and the pounds will look after themselves?  The same idea can be applied to winning: look after your little wins and the big wins look after themselves.  In this episode, I'll share my ideas on how to win more. 
What is winning and how can you do more of it?

How we define "winning" may vary.  A win to me may not be a win for you.  It's all about perspective. Changing your perspective about winning is the secret to doing more winning.  Once you change your perspective, you'll find many wins and also find yourself landing in first place more often.

It all starts with the small wins.  Once we start looking for the small wins (even during times when you feel so far away from a big win) the big wins will follow.  I encourage you to look for the wins in every ride.  
What is a small win?
Here's an example: I've been riding a gelding that I've had a little bit of trouble with.  My win for him was that I was able to bring his attention back to me. At the start of the ride, he was worried about my dogs in the grass and I kept losing his attention. He could still hold his circle, but he kept looking over at the dogs and I was losing him.  By the end of the ride, he was paying attention to me. He was with me. I feel like that was a win for the day.
Finding the wins in your day is much like finding things to be grateful for.  You're looking for positive points and focusing on them so that you attract more of the positive.  In the case of winning, we're going to be looking for wins so we keep seeing more wins.  It's like we're collecting wins.

Here are more examples of finding wins in my own life:  

This morning I got the kids to the bus on time.  Barn chores went smoothly (#winning!)
I sat at my desk and I didn't really feel like working…that did not feel like winning, so I shifted gears and went to ride some horses. That ride gave me the inspiration for this podcast episode (#winning again!). I already know what I'm going to have for supper (that's kind of a rare occasion).  As you can see, I'm constantly looking for wins.  
Now, let's apply this idea to you and your horse.  
If your run didn't go well, surely you can find two good points (that's two small wins!)  Maybe you didn't have good barrel turns, but you got your horse in the arena as planned.    Maybe you didn't have a good third barrel, but your second barrel was really good. Find the wins.  Focus on the small wins. This doesn't mean that you're oblivious to the things that didn't go well.  You're going to work on fixing your errors, but you're focusing on the positives first. 
There is a feeling that goes with winning.  When you're in that vibration of a win, you are more likely to attract a win.  You are more likely to align with the energy of a win when you're operating from a winner's frequency.  So, look for wins.

Look after the small wins and the big wins will look after themselves. In addition to looking for small wins, you still need to ride your horse, know how to ride well and work on your skill set.
But, this mindset of finding small wins is important for you to align with the big wins.  Practising finding small wins will also really help in dealing with ups and downs when things don't go well.  
If you put your focus on the small wins, you will align with the energy of a winner.  When you're adding up all of your little wins, it's more likely that you will have those big wins.  So, look for wins in all shapes and sizes. Visit The Riders Mind Community on Facebook to share your wins!  Comment with your wins and hashtag #win #winning or #winWednesday  We'd be happy to celebrate your wins with you!