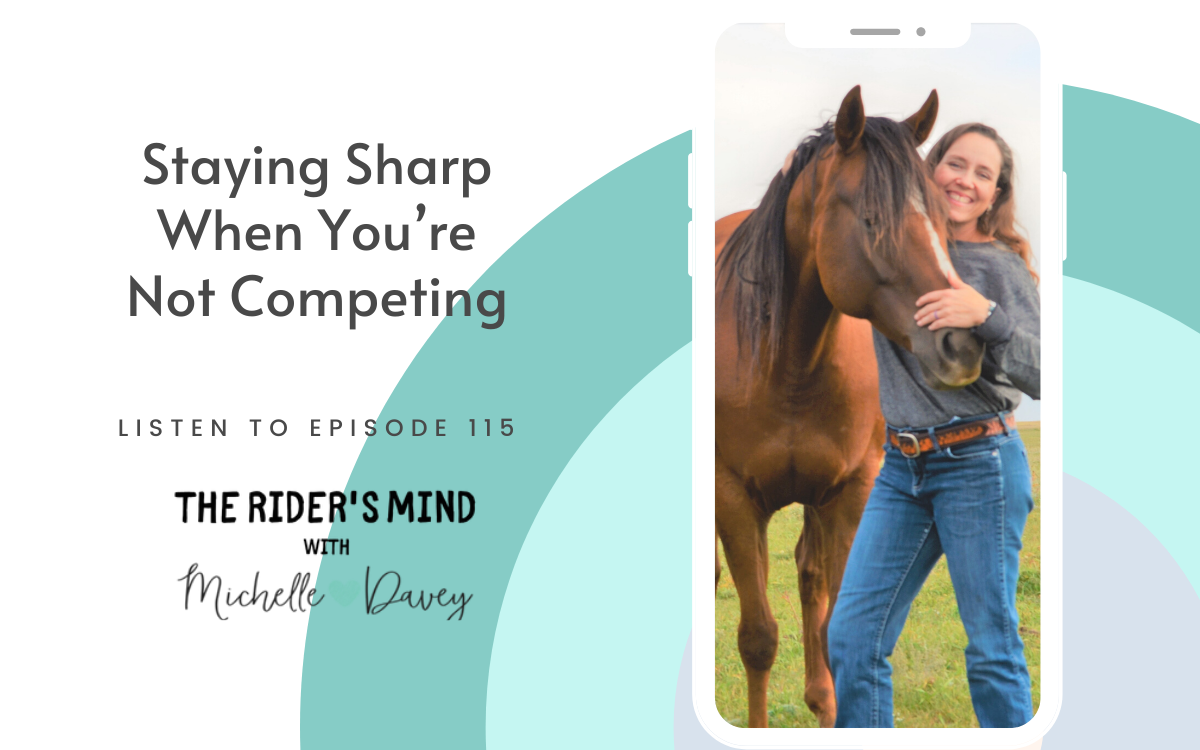 The Rider's Mind Podcast Episode 115: Staying Sharp When You're Not Competing

In this episode, I share a few things you can do to keep your mindset and mental resilience sharp in the off season.
Use it or lose it: it applies to your muscles, your mind, your budget at work and even your confidence and focus. 
If you've taken time off from riding, you might feel like you've "lost your confidence". I don't think you've lost it, you just haven't used those neural connections in your brain. When you aren't using those skills, you might feel like you've "lost them", but know that you can get them back. Just like you can rebuild leg muscles after you haven't worked them in a while, you can rebuild your courage, confidence and mental sharpness.  
Here are some things you can do during your off-season to stay sharp: 
Get comfortable with being uncomfortable: often we grow through experiences that feel awkward to us (like learning to socialize again after pandemic restrictions lift!)
Rewire your habits: recognize your bad habits and retrain yourself through visualization, breathing and other tools. For example, if you have a habit of getting nervous, work on visualizing a different response to competition. 
Challenge your mind, your body, your reflexes:

Move your body, even if you're not riding

Learn to move your energy through activities like dance, exercise or yoga

Practice regulating your nervous system with breathwork or meditation

Do something that feels scary
Be vulnerable and try something new

Practice resting and take a break from doing all the things

Practice accountability by sticking to a program consistently

Learn to keep your word to yourself

Break down your goals into bite-sized pieces so you can build the skills you need
Join a challenge: Be part of a group for accountability and support. I'm hosting a mental toughness challenge starting January 17th.  
Free Mental Toughness Challenge Starts January 17th
Registration open now at  https://michelledavey.com/mtc
Join the Conversation

Join the discussion in the The Rider's Mind Community on Facebook. As a member of this community, you'll also get tips and videos from me. 
Want to connect or ask me a question? Find me on Instagram or Facebook.
Learn with Me

If you're looking to make changes to your mindset, be sure to sign up for my free Next-Level Mindset Mini Course.
You can also join Stride, my next-level barrel racing group. This group receives video training and coaching from me and Stride members have access to special guests. We work on becoming mindful barrel racers so we can show up, be present and perform with great partnership.