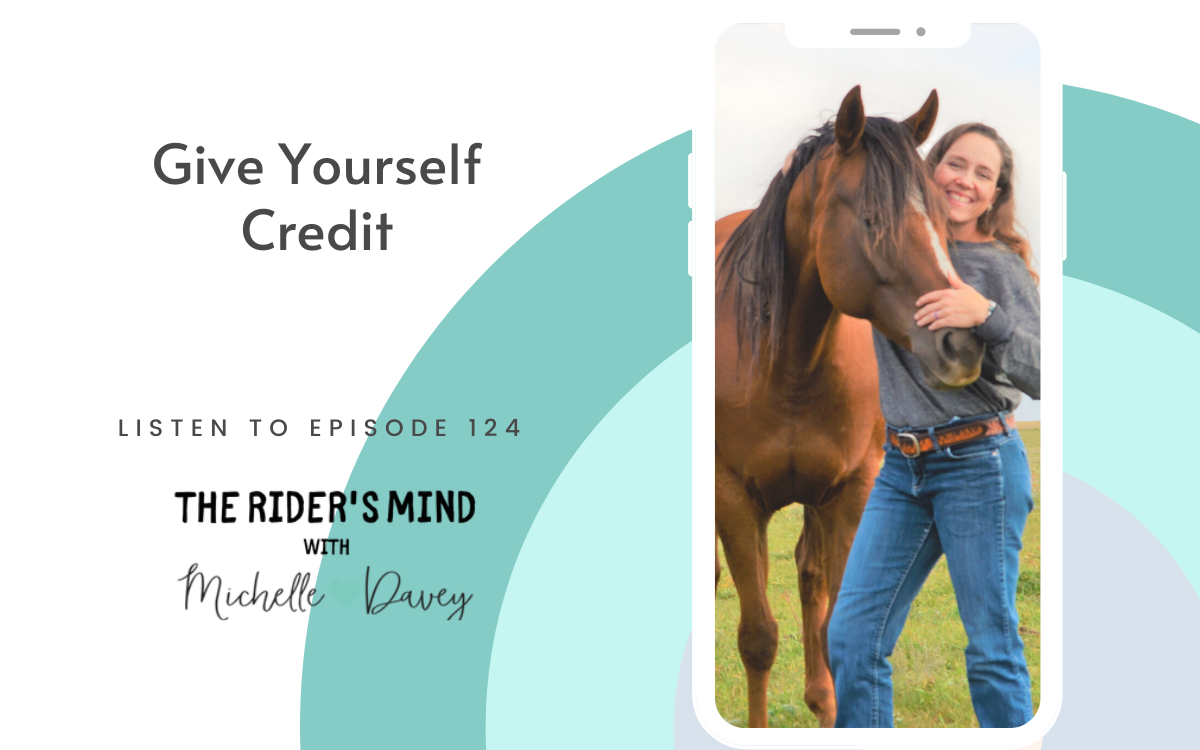 The Rider's Mind Podcast Episode 124:  Give Yourself Credit

It's not the person sitting on the fence that deserves the credit, it's YOU. You're the one doing the work, daring greatly, being vulnerable, failing and getting back up. In this episode, I want you to recognize how important it is to take some credit and thank yourself for your success. 
I've noticed it's common for athletes and competitors to give credit to everyone else: your horse, your sister, your sponsor.  
Be careful when you deflect compliments and transfer them to someone else. 
Maybe you do this because you don't want to seem conceited or maybe you saw someone you respect do it, so you mirror that. Maybe you heard someone talk badly about someone who was owning their achievements (out of jealousy) and subconsciously you noted that behavior and vowed to not be that confident.

Success is often a moving target for high achievers. When you achieve something, you don't sit and marinate in the moment, but move on to the next thing. This might be tied to a core belief of not being "good enough" until you've achieved the next thing. 
We tend to give respect to those who are humble. I don't think we need to push off the compliments. I see people being quick to thank others, to give the credit to their horse, their friend or husband or whomever. 
There is nothing wrong with saying thank you when being complimented. Own your ability. 
Two excerpts for you to think about: 
The Man In the Arena
The Man in the Arena is an excerpt from Theodore Roosevelt's speech "Citizenship In A Republic" delivered at the Sorbonne, in Paris, France on 23 April, 1910.
"It is not the critic who counts; not the man who points out how the strong man stumbles, or where the doer of deeds could have done them better. The credit belongs to the man who is actually in the arena, whose face is marred by dust and sweat and blood; who strives valiantly; who errs, who comes short again and again, because there is no effort without error and shortcoming; but who does actually strive to do the deeds; who knows great enthusiasms, the great devotions; who spends himself in a worthy cause; who at the best knows in the end the triumph of high achievement, and who at the worst, if he fails, at least fails while daring greatly, so that his place shall never be with those cold and timid souls who neither know victory nor defeat."
In an acceptance speech, Snoop Dogg said:
"And last but not least,  I want to thank me.
I want to thank me for believing in me.
I want to thank me for doing all this hard work.
I want to thank me for having no days off.
I want to thank me for never quitting.
I want to thank me for always being a giver and trying to give more than I receive.
I want to thank me for trying to do more right than wrong.
I want to thank me for just being me at all times."


You deserve credit for putting yourself out there. For doing the things. For being vulnerable. For failing and getting up again. For being at your worst and coming out of that. For not feeling good enough, but getting in the arena anyway. 
You must give yourself credit. Don't wait for someone else to give it to you. Look at yourself from the outside in and look at all the things you're doing to be successful. This didn't come from someone else. 
If you have trouble accepting this credit and owning it, that's something else to look into.There might be a connection between your self-worth or deservedness you feel you have at your core level and that's something to dive deep on.

At the end of the day, if you weren't there, you wouldn't have won anything!
If you hadn't made the decisions you did along the way, you wouldn't be there.
If you hadn't put in the work to get yourself there, it wouldn't have happened. 
Lean into your success.  You're the one in the arena. You are the one that dared greatly.

My Stride coaching group membership is going to open for enrollment March 22-24, 2022. 
How is Stride different from this podcast? In Stride, we're actually making changes and not just thinking about them or recognizing their importance. 
Join the Conversation

Join the discussion in the The Rider's Mind Community on Facebook. As a member of this community, you'll also get tips and videos from me. 
Want to connect or ask me a question? Find me on Instagram or Facebook.
Learn with Me
If you're looking to make changes to your mindset, be sure to sign up for my free Next-Level Mindset Mini Course.
You can also join Stride, my next-level barrel racing group. This group receives video training and coaching from me and Stride members have access to special guests. We work on becoming mindful barrel racers so we can show up, be present and perform with great partnership.