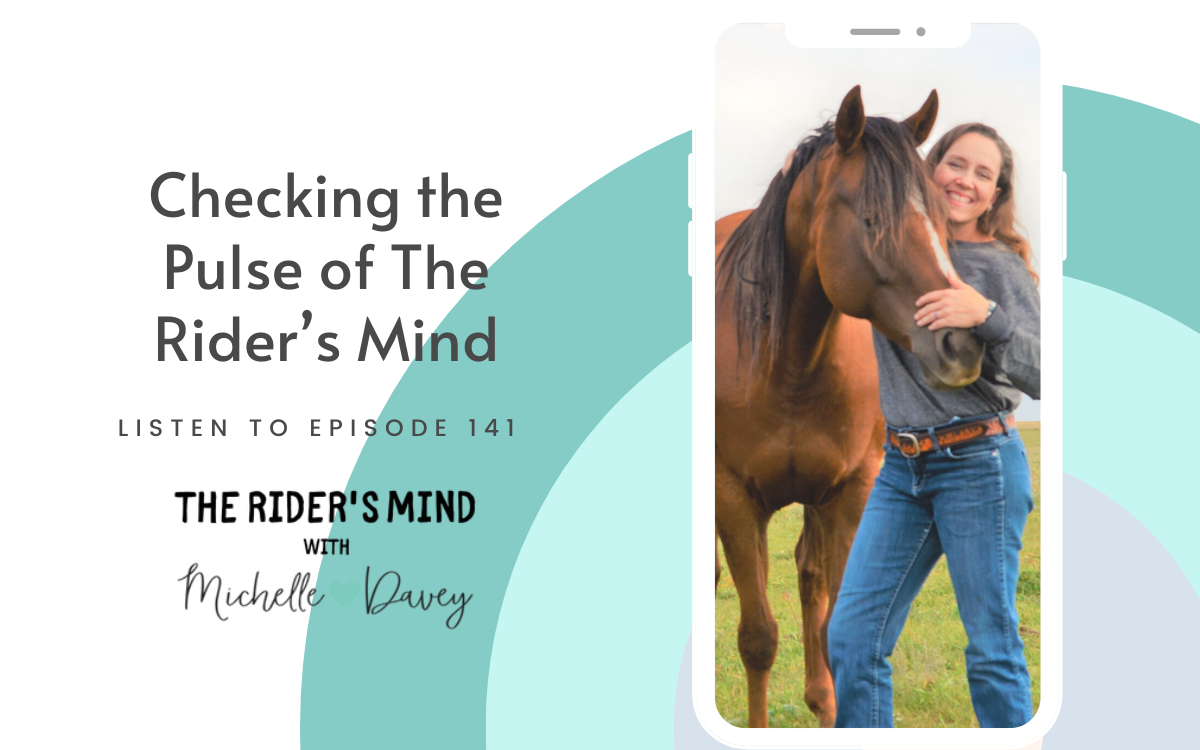 The Rider's Mind Podcast Episode 141: Checking the Pulse of The Rider's Mind
Coming back from a summer hiatus, Michelle shares what is on the horizon for The Rider's Mind Podcast and puts out a call for guest suggestions. She shares an exercise that everyone could benefit from doing if they're looking to cultivate more joy in their life.
Welcome back to the next season of the Rider's Mind!
Make your own "joy list" today and start living pieces of it each day.
When I'm 50:
I'll stop caring what other people think of me.
I'll enter all the big races and rodeos.
I'll pay someone to clean my house.
I'll read every day.
I'll be comfortable in my body and let my hair do what it wants.
I'll say what I think instead of saying what I think will make someone happy.
I'll be a force of nature because that's where you'll find me most.
I'll have all the pretty horses and high quality tack.
I'll wake up with the sunrise and sip tea with a book.
I'll be gentle and kind and loved by all the animals.
I'll smell the rain from my veranda wrapped in a blanket.
I'll watch the stars from my deck kicked back in a lounger.
I'll connect to realms beyond here, and deliver messages of hope and empowerment.
I'll alchemize pain into passion and struggle into success.
I'll let go of troubles and surrender control.
I'll move with flow and follow my heart.
I'll find joy in each day and move through with ease.
When I'm 50 ….
I'll be me.
But they say age is just a number so maybe I'll start today.
Join the Stride coaching group waitlist: www.michelledavey.com/stride  It's in Stride we work at becoming mindful barrel racers so we can show up present and ride with great partnership.
Join the Conversation
Join the discussion in the The Rider's Mind Community on Facebook. As a member of this community, you'll also get tips and videos from me.
Want to connect or ask me a question? Find me on Instagram or Facebook.
Learn with Me
If you're looking to make changes to your mindset, be sure to sign up for my free Next-Level Mindset Mini Course