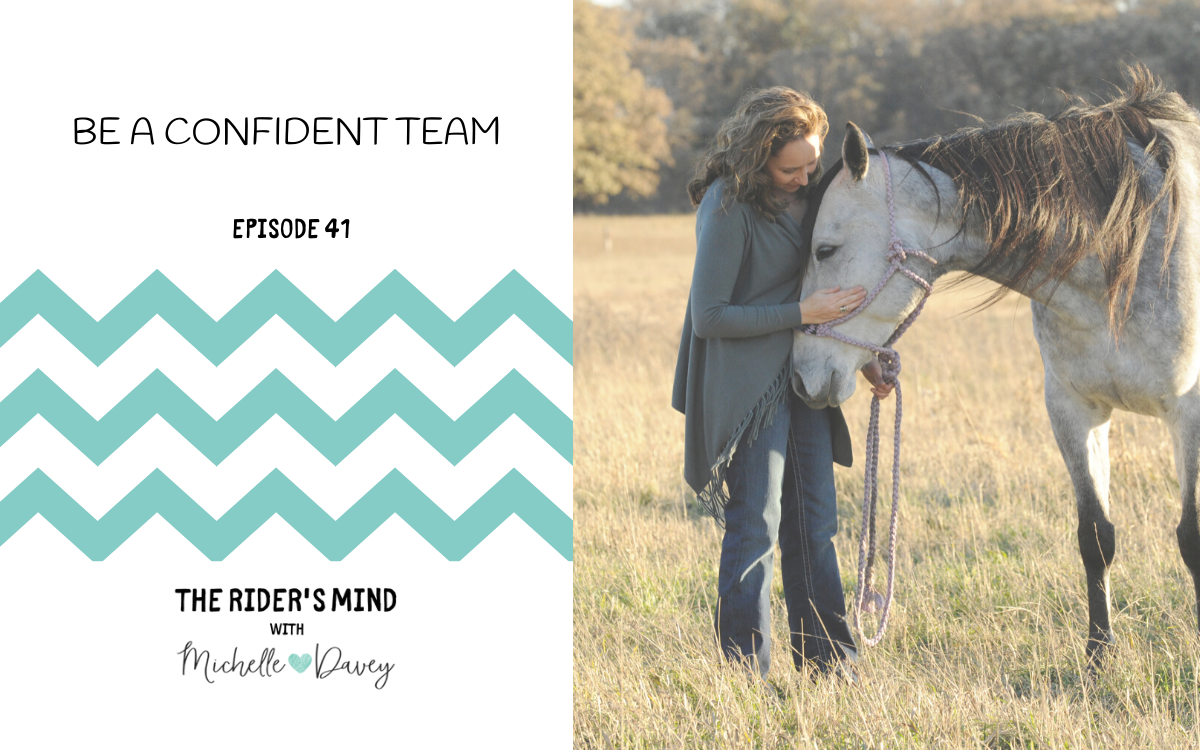 The Rider's Mind Podcast Episode 41: Be a Confident Team
I took a suggested topic from the Rider's Mind Community on Facebook for this episode.  Chris asked about having a horse come into your life who has a different level of confidence than you do.  If your confidence doesn't match your horse's at the moment, how do you level up to match your horse?  Or, if you have a less confident horse, how can you match vibrations to be an elite team on the same level? 
So, how can you work with your horse's confidence to be an elite team?

Recognize that this horse came into your life for a reason.  
Perhaps this horse is meant to spur you to level up.  Maybe this horse can help you clear out all the reasons why you've believed you weren't confident enough.  Maybe this confident horse can help you really show up as your best.  

If you have a horse that isn't confident, consider that there's a reason for that too.  With this horse, you may work on your leadership, consistency and coaching skills to level-up in a different way.

Be careful not to judge your horse's traits as good or bad.  
Whether your horse is very confident or lacking confidence, just take them as they are. Steer them to your perception of where you'd like to be in the partnership.   Remember, the qualities you recognize in the horse reflect on you.  Different people perceive horses differently.  
The horse and the rider each show up with their own energy level.
You might be a high energy person or a calm person.  You might have a high energy horse or a calm horse.  Ideally, you want to meet in the sweet spot to perform at the Ideal Performance State.  Often a high energy person matches well with a calm horse or a calm person matches well with a high energy horse. 

You can modify and regulate your energy level.  It's really about being able to change your own energy level to help set the tone for your horse.  Sometimes you have to move your energy level to a zone that isn't comfortable in order to perform well.
Animals are naturally at a very high vibration, so it's really humans that need to heal, adjust, learn and let go of limits. 
If you lack confidence, you may need to uncover the limits and stories that keep you from being more confident.  You may need to work on yourself.  If the horse is of lower confidence, you might think about the horse's history.  Their lack of confidence might also be related to your level of confidence.  If your confidence is not core-deep, then he will show you areas where you need to improve.

Ultimately to show up as an elite team, you're going to have to heal all the reasons why you don't believe this to be true already.  
Maybe it comes as a journey of learning technical skills, but there is also an emotional component to it as well.  Energetically, you really can mesh with the energy of your horse at a higher level.   It takes intention and imagination. 
No amount of time spent with your horse doing the training is going to make up for the work you can do to raise your vibe. You may need to work on your self-love, worthiness and enoughness. 
All the things your confident horse has, can be yours as well.  Horses are present and grounded.   They have no expectations, they react to the present moment.  They show up as is.  You can do the same.

Horses are going to respond to how you are showing up.  It's up to you to do the work within so you can show up as your purest and most content self.
Horses come with all sorts of lessons you can learn.  Horses give you the opportunity to level-up.  If you have a horse that lacks confidence, you can go on a journey together to build that confidence.  If you lack confidence, you have an opportunity to let go of some limits and develop the confidence to be an elite team.  
Breathe deep, stay present, and ride the stride. 
If you're looking to make changes to your mindset, be sure to sign up for my free Next-Level Mindset Mini Course.  
If you'd like help to continue your personal development journey, you'll love being part of my Stride coaching group.    This is a paid next level barrel racing coaching group and you can get on the waitlist at michelledavey.com/stride-wait-list.  
Join the Conversation
Join the discussion in the The Rider's Mind Community on Facebook.  As a member of this community,  you'll also get tips and videos from me.