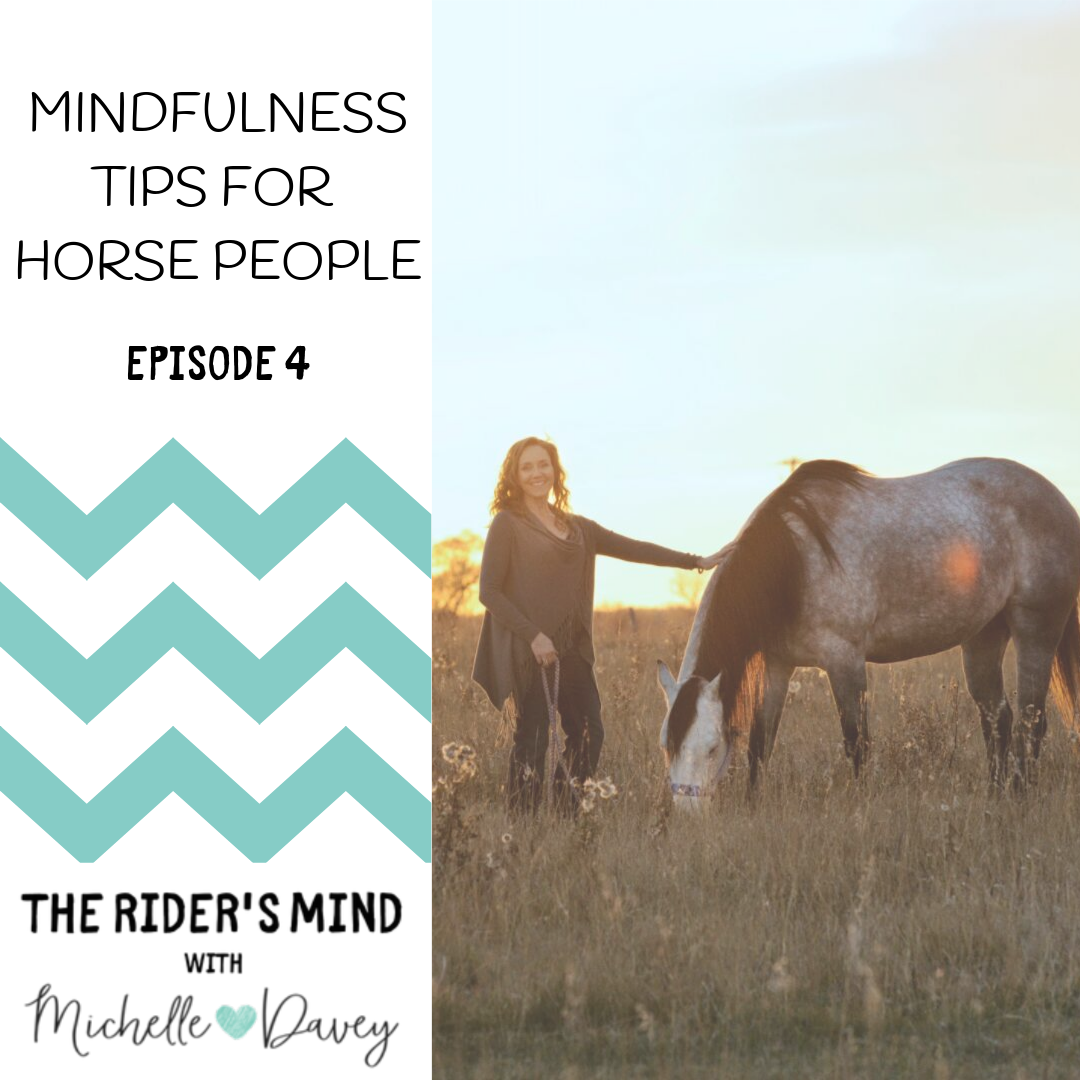 Mindfulness Tips For Horse People Ep. 4
Listen to this episode for great tips on how to be more mindful, which can lead to a better relationship with your horse.    
Show Notes:
What is mindfulness? Well, it's not about a FULL mind.  It is the mental state of being aware and present. It's about being aware of ourselves and our environment.  It's about being focused on the present — not looking ahead and not looking back. Being mindful helps us tap into our intuition.  
Mindfulness Tips:
Take a deep breath, hold it for 3-5 seconds and then exhale.   Repeat. This will help you focus on the present. 

Learn to meditate.   It will improve your ability to stay present.  I recommend starting with guided meditation. Check out Headspace, Insight Timer or Calm.  

Observe your thoughts and feelings.   You can change your thoughts. You can change the meaning you attach to your thoughts.  You can change the feelings you attach to thoughts. 

Ride with intention.  Take a deep breath, be present, be grounded.   Feel each step and hear each breath.  

Practice mindful relationships (with horses and humans!)  Be kind. Be present with them. Remember to listen to what your horse (or human) has to say.  Keep in mind that horses will express themselves through their actions.      
Training ourselves to "come back" to the present can really help us when competing.  It allows us to focus on what is happening and helps us ride the stride we're in. 
Making time to meditate can actually help you be more productive, so even if you are busy, set a reminder and take time to do it!
Express gratitude.  Remember that these huge beasts ALLOW us to be part of their lives.   Be grateful for all you get to experience because of your horse.
Having mindful relationships means having kind conversations.  You aren't gossiping. You aren't on your phone mid-conversation (or mid-ride!). 
Be kind. Be grateful.  Be present. Ride the Stride!
Mentioned in this Episode:
Stridewear Clothing – visit the homepage to sign up for free mindfulness tips!