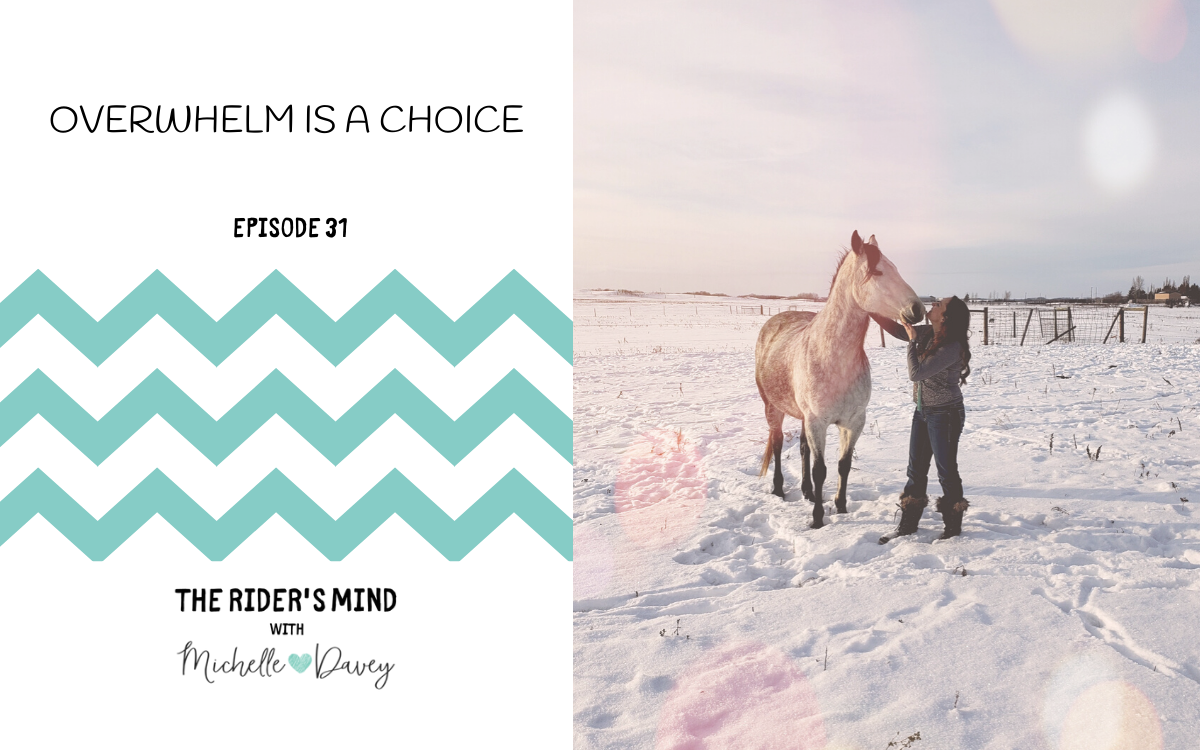 The Rider's Mind Podcast Episode 31: Overwhelm is a Choice
Have you ever been stuck in the energy of overwhelm?  Have you been "in a flap" because you have so much to get done?  In this episode, I'll talk about how overwhelm is a choice and what you can do to get going on all those things you need to get done. 
You know the feeling when you have soooo much to do.  You don't know where to start. Or you've started, but you don't feel like you're getting anywhere so you get frustrated and quit.  Or you procrastinate because you have so much to do. This is a feeling of overwhelm.
Overwhelm is a choice.  
We choose to be stuck in that energy.  We don't have to be in that energy. We put so much energy into the thoughts and wondering where to start that we could have been finished. We end up overthinking and suffering from analysis paralysis. 

Something that helped me was reading Mel Robbins' book The 5 Second Rule.  She teaches a method of using a 5 second countdown to take action before you talk yourself out of it.  

It can also help to write a list.  Get that to do list out of your head and onto paper. Consider how much time each task will actually take; there's a good chance some of the tasks will be quick and easy to complete.  Follow the list and check those jobs off! Often it takes far less time to just do the tasks than the time you've spent procrastinating or thinking about them. The energy you put into not doing it ends up being greater than what it took to actually do it.

Overwhelm is a choice.  Most often you have no real reason to be in that energy.  
Choose to be in action, not overwhelm.    
Start.  Do something.  Check something off your list and keep going. 
Recognizing when you're choosing to feel overwhelmed is key.  Then you can get yourself out of it ASAP. Being in a flap or being "busy" doesn't get things handled.  What does help? Getting out of that energy. Making a plan. Doing something. This is true whether you are overwhelmed with your list of jobs, an injury your horse has sustained or the chores you need to get done.
Making a focused effort helps us move away from overwhelm.  Take action. Make a change.