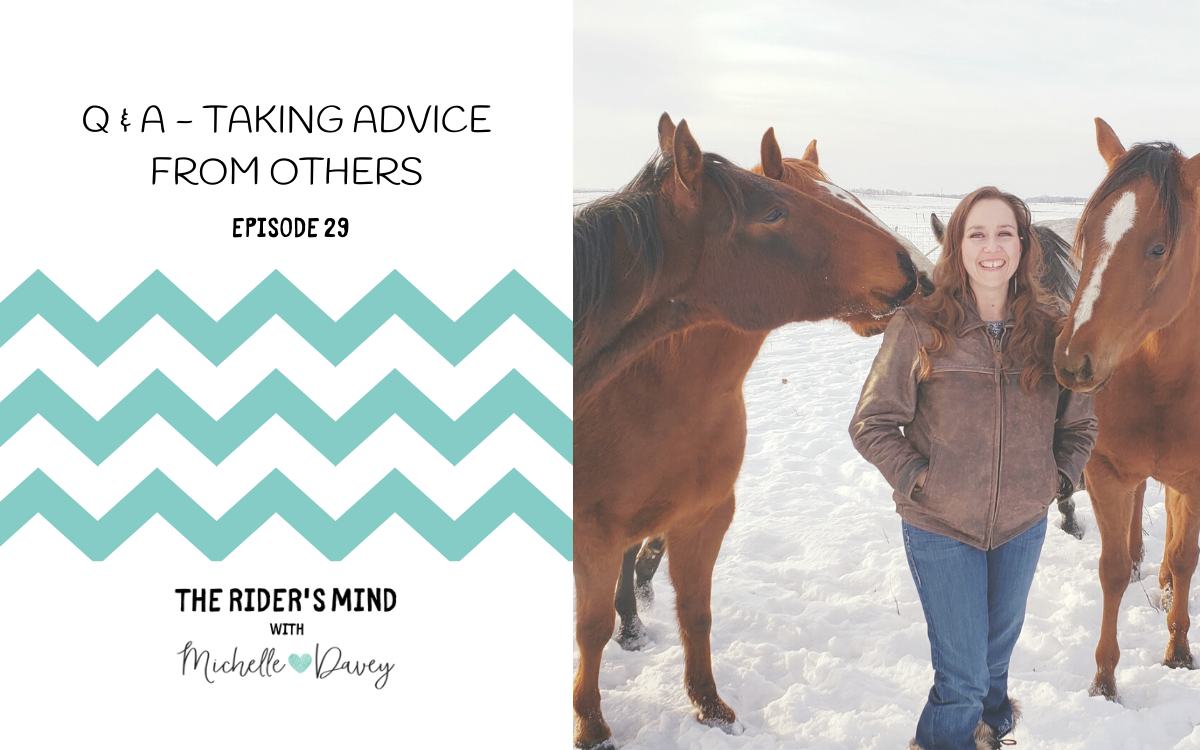 The Rider's Mind Podcast Episode 29: Q & A – Taking Advice from Others
In this episode, I'll be addressing a listener's question. 

Question:   I typically seek advice from people I trust and respect, but what happens when their advice doesn't sit right with me?   For example: If I believe deep down I'm ready to enter a rodeo and my coach says I should jackpot more first… How do I handle that conflicting feeling between what I feel and what my trusted coach advises?
Answer:

First, if you know deep down that you are ready to enter a rodeo, why did you ask your coach?  I would guess it's because either you didn't trust what you felt deep down, or your ego was looking for validation. Both are very normal, but it's important to be aware of these feelings.
Now that I'm aware of this, sometimes I won't ask the question.   If you're not going to follow their opinion because your gut is so strong, then don't ask. 

Ask yourself whether you're willing to follow their advice before you ask. 
Keep in mind that someone's advice comes from their past experience and knowledge, but it's also mixed with their own beliefs.
When we receive advice, we decide how we feel about it.

Anytime we ask for advice we have to consider if we already know the answer in our heart and if we are prepared to get an answer we don't really like.  
If the advice you're receiving isn't sitting right with you, you can counter back and have a discussion with your coach.  In this case, ask how will I know when I'm ready?  If your coach thinks you will be ready when you win a jackpot or when you're consistent in the 1D, you could counter wouldn't it be ok to just go for the experience with no expectations?

Ask yourself, do I have the foundation to fall back on if going to a rodeo doesn't go well?  Think about what your horse would say.  Recognize that your coach is on their journey and you are on your journey.  Will there be any hard feelings if you don't follow your coach's advice?
When we hear advice and it doesn't feel good, we have to discern whether the resistance we feel is coming from the idea itself or the ego not liking what the advice could mean.

Why doesn't this advice feel right?  Is it your ego thinking that you aren't good enough?  Or is it because your heart believes you're right and the advice contradicts that?
If it feels right, stand in your power to stay true to yourself and your own beliefs.
Check in on your own beliefs – is there a thought that is limiting you?  Your actions need to align with your values or you're not going to show up with 100% belief in yourself and your goals.

The more you are aware of your values, what you stand for and where you want to go, the easier it will be to discern the energy and the information you receive.

Remember, anytime we ask for advice we have to consider if we already know the answer in our heart and if we are prepared to get an answer we don't really like. 

Above all else, stay true to your heart and what feels good for you.  
It might be awkward at first to go a different direction than what your coach recommends, but you won't regret following your heart.