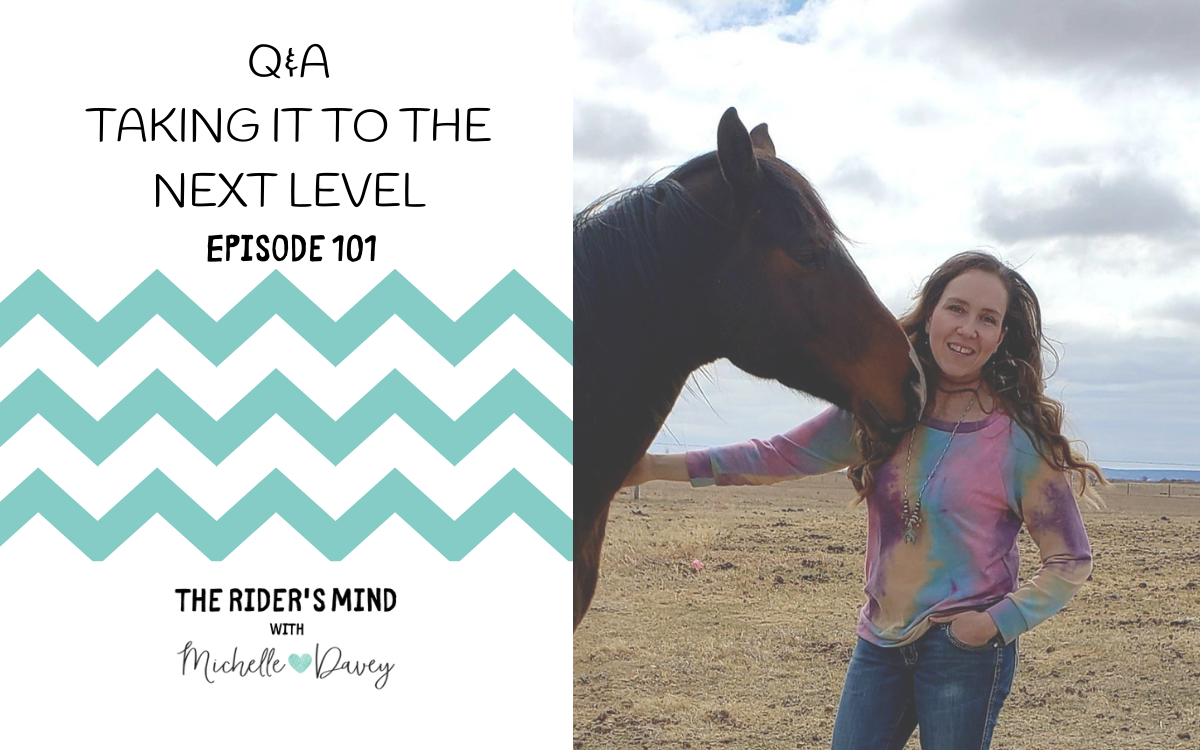 The Rider's Mind Podcast Episode 101: Q&A-Taking it to the Next Level
Today's episode is based on a question from a listener.

Question: Do you have any sage advice for someone who has a horse that is ready to move to the next level?

Answer: Get honest about what is stopping you.
You've got a great horse and you're ready to step up to the next level. So, what's stopping you?
You might be saying you haven't started yet because you have a full time job, you have kids, you don't have the money, you're too heavy, you have a bum knee or you don't have a good enough trailer. 
Maybe you're believing you're not good enough, maybe you don't feel like you belong at that next level. 
There's a reason you have this horse right now and there's a reason you believe in him. 
If you're not already going to that next level, there are limiting beliefs and stories you're telling yourself that are holding you back. 
Your job, lack of money, kids or old trailer are all real things that might hold you back. Even if you are facing some of these obstacles, you can overcome them. 
Think about the story you are telling yourself and ask, Is this true? 
Is it really the kids that are stopping you from going? There are multiple people who have made the NFR and have young children. So, what's really stopping you? It's possible to figure out a way to overcome any of the obstacles you're facing.

Are you willing to do what it takes to figure these things out or is it easier for you to continue making excuses?

The stories you tell yourself make you feel safe. Be aware of the stories you're telling yourself and the choices you're making to feel safe. 
Is there a different choice you can make to get a different result and reality?
I'm not saying it's going to be easy. There will probably be sacrifices. But it's possible to create a different result or reality. 
For example, you might feel insecure about having an older truck to haul longer distances. You have the choice of taking the risk of dealing with breakdowns or finding a way to make the payments on a newer truck. 
Whatever it is that you feel the need to change, ask yourself:
What would it take to make this possible? Are you willing to do what it's going to take?

You might be asking:
Am I willing to lose my job security?
Am I willing to pay a babysitter?
Am I willing to drive 2 hours to take my kids to grandma?
Am I willing to let them cry while I ride?
Am I willing to get a side hustle?
Am I willing to sell some tack to pay for entry fees?
Am I willing to do what it takes to improve my health?
Am I willing to finally get the knee surgery and start rehab?
Am I willing to haul in a stock trailer?
Many people have proven that all of this is possible. Lots of people have made big sacrifices.
NFR qualifiers have overcome loss, broken body parts and cancer and they were able to climb to the top after. They didn't tell a story that held them back. They used the challenges they went through as a stepping stone and as proof that they were strong enough to persevere through challenging times.

Don't let your own stories and limiting beliefs hold you back from showcasing your horses.
If you've landed a good horse, it's your job now to showcase him at his best. Often, that means getting your head on straight so that you can stay out of his way and let him shine.
It's time to get honest about what's holding you back. 

Join the Conversation

Join the discussion in the The Rider's Mind Community on Facebook. As a member of this community, you'll also get tips and videos from me. 
Want to connect or ask me a question? Find me on Instagram or Facebook.
I'm on Clubhouse too!  Find me @michelleadavey
Learn with Me

If you're looking to make changes to your mindset, be sure to sign up for my free Next-Level Mindset Mini Course.
You can also join Stride, my next-level barrel racing group. This group receives video training and coaching from me and Stride members have access to special guests. We work on becoming mindful barrel racers so we can show up, be present and perform with great partnership.