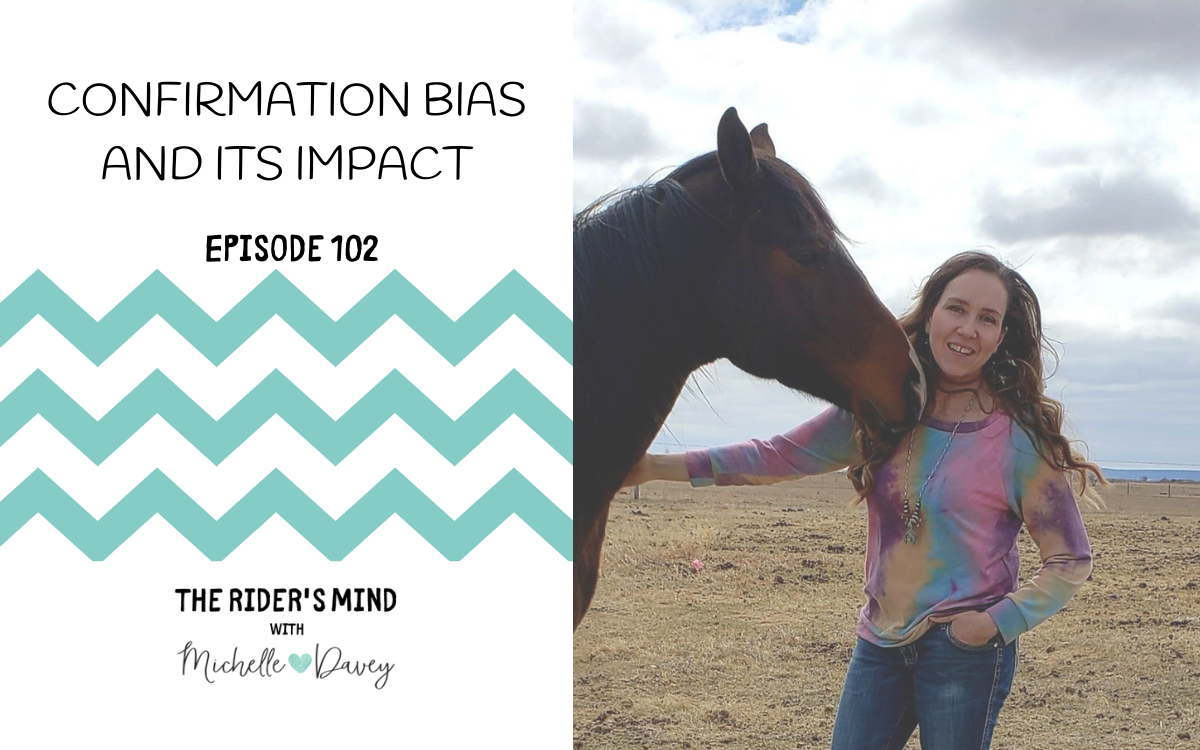 The Rider's Mind Podcast Episode 102: Confirmation Bias and Its Impact
Do you ever feel like someone is just absolutely out to lunch with their beliefs?  You've maybe been feeling like this a lot lately. There seem to be a lot of polarizing topics out there right now.  It can feel like other people's thoughts and beliefs are so far from your own. In this episode, I'll talk about why we have different beliefs and how we can approach others with a little more kindness and grace.
My goal with this episode is to promote kindness and understanding, especially when your beliefs do not align with others.  
Confirmation bias is what you believe based on your current beliefs and values and the facts you've collected that influence your decisions and thoughts.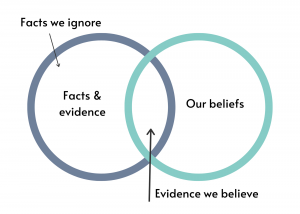 There are the facts you chose to believe and the facts you ignore because they are so far from your beliefs.
Understanding that confirmation bias exists can help you understand why others might believe something different than you and why people can make such different choices than you.
There seems to be more and more division between people and more polarity in people's beliefs. Even people who you previously considered to be like-minded might be seeing things differently in our current situation: whether it's about COVID, racism or horses.  
I think this is an issue affecting all people, including horse people. 
In the horse world, confirmation bias helps explain why it can be really easy to learn from another horse person.  It's easy to learn from them if they align with your value system. 
When someone's beliefs and values are more similar to yours, it's easier for you to accept their facts and evidence.  
The most current example is COVID. We all start with our own beliefs and personal experience around health, wellness and government. Then, we add the facts and evidence that we choose to consume. From here, there will be facts that we don't believe because they are so far from our existing beliefs. We choose to stand behind the facts and evidence that resonate with our previous beliefs and values.

Your baseline beliefs are what filters out what you believe and what you stand behind. 
A horse example might be that I have had several horses by a certain lineage that have all been really great for me, so I think that lineage is great. Someone else might have a different experience and make a different conclusion. Maybe they rode a horse with the same bloodline and it was horrible, plus their neighbour had a similar bad experience. Based on our beliefs of what a "good horse" is and the evidence we've collected from our personal experiences, we've each made different conclusions. 
Families will generally have similar beliefs because they often have shared experiences. However, I'm noticing different generations seem to have different beliefs and will stand behind different things because what is important to them is different. In order to change your beliefs on something there would need to be substantial facts and evidence that you believe in.
Approach people who see things differently than you with kindness.  
Things can feel quite polarizing. When you can have an open mind about how others are feeling, I think it can help you have more respect for others and show up with kindness. It helps to be able to listen with an open mind instead of becoming defensive. What someone believes is correct is based on their values, facts and evidence they've collected — they might just be getting their information from a different source. 
Your beliefs about horses or any other matter are not just surface level. There is a lot of conditioning that goes into developing your beliefs. 
Perhaps by having a more mindful and understanding approach to someone else's beliefs we can go about our day with a little more grace. 
Join the Conversation

Join the discussion in the The Rider's Mind Community on Facebook. As a member of this community, you'll also get tips and videos from me. 
Want to connect or ask me a question? Find me on Instagram or Facebook.
I'm on Clubhouse too!  Find me @michelleadavey
Learn with Me

If you're looking to make changes to your mindset, be sure to sign up for my free Next-Level Mindset Mini Course.
You can also join Stride, my next-level barrel racing group. This group receives video training and coaching from me and Stride members have access to special guests. We work on becoming mindful barrel racers so we can show up, be present and perform with great partnership.