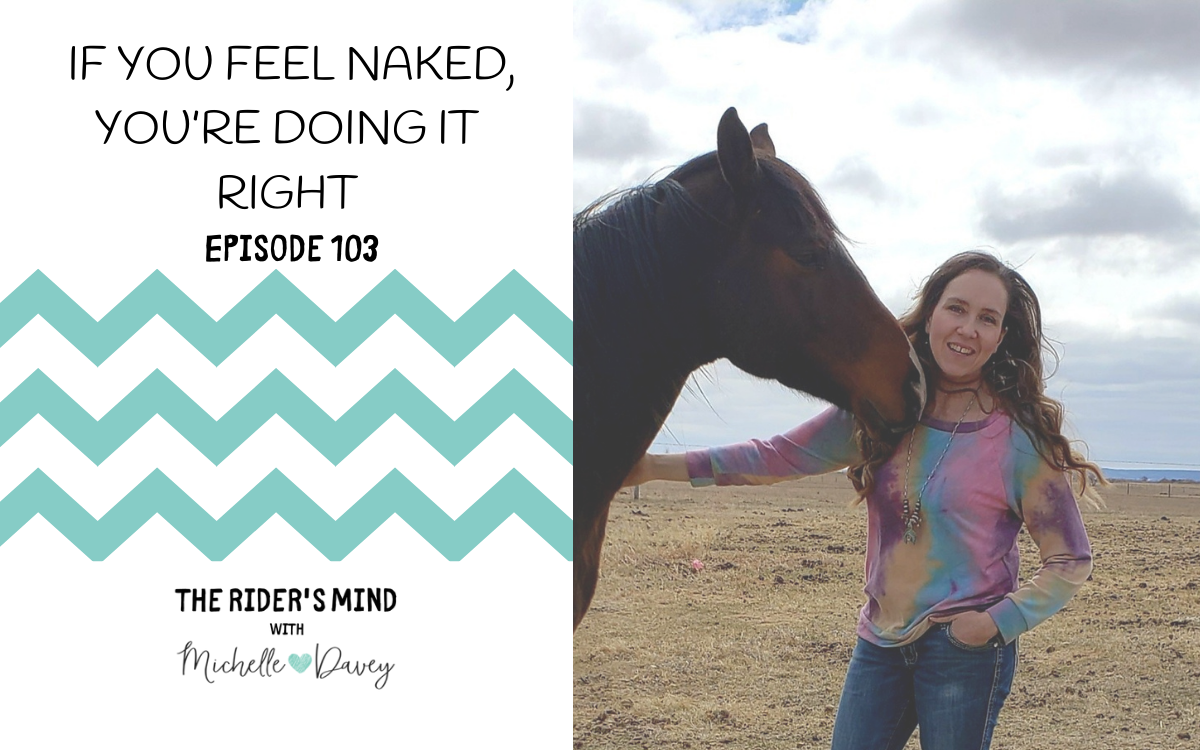 The Rider's Mind Podcast Episode 103: If You Feel Naked, You're Doing it Right
In this episode, we are going to talk about riding naked… not in the literal sense though. This episode is about showing up with vulnerability and exposing yourself in your run. 
You've maybe heard the public speaking tip to imagine everyone naked. What if you were the one "naked"?

We ask our horses to expose themselves in their runs. They need to be loose in the ribcage, step underneath themselves and be vulnerable to be strong and correct in the turn, where they are not guarded and not protecting themselves. 
You ask your horse to expose themself, but are you prepared to put yourself out there?

When you put up a guard to stay protected, you can lose some feel because of the rigidity in your body. You might be subconsciously protecting yourself from being seen when you really need to expose yourself and put it all out there. 
I had a recurring dream of walking around naked in public places. This was at a time when I was starting to put myself out there online. I eventually saw the connection between my dream and how naked and exposed I felt by putting my thoughts and feelings out there.  Then I heard the saying "If you feel naked, you're doing it right." Now I think about whether I'm feeling uncertain about doing something because it's making me vulnerable and "naked" or if it's something else holding me back.  
"The moment that you feel, just possibly, you are walking down the street naked, exposing too much of your heart and your mind, and what exists on the inside, showing too much of yourself…That is the moment, you might be starting to get it right." ― Neil Gaiman
You need to be vulnerable in the arena. If you ride protected and guarded, your horse will pick up on that.  If you're carrying a fear of failure or worrying about looking stupid or feeling fearful of what others think, that is going to keep you from putting yourself out there.
If you're okay with the feeling of being exposed, you're probably good to go.

Once you have the confidence from within and you don't worry so much about how you look, then you can really show up. When you recognize that you're more than what people see, you really are more comfortable exposing yourself. When you are not guarded, you'll have more feel and more connection with your horse, you'll be softer and kinder and you'll be able to focus on the task at hand.
You have to be okay with showing up and exposing yourself so your horse will follow your lead.

It's about accepting your imperfections and leaning into vulnerability.
Join the Conversation

Join the discussion in the The Rider's Mind Community on Facebook. As a member of this community, you'll also get tips and videos from me. 
Want to connect or ask me a question? Find me on Instagram or Facebook.
I'm on Clubhouse too!  Find me @michelleadavey
Learn with Me

If you're looking to make changes to your mindset, be sure to sign up for my free Next-Level Mindset Mini Course.
You can also join Stride, my next-level barrel racing group. This group receives video training and coaching from me and Stride members have access to special guests. We work on becoming mindful barrel racers so we can show up, be present and perform with great partnership.