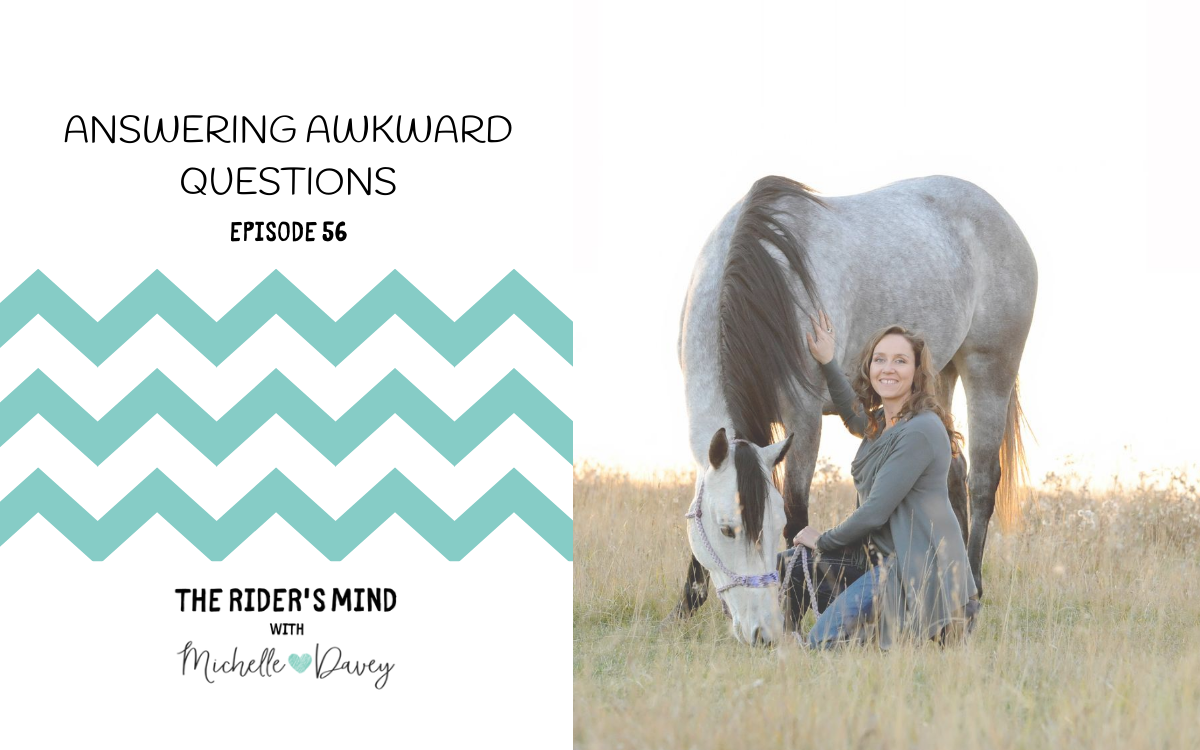 The Rider's Mind Podcast Episode 56: Answering Awkward Questions
This episode is based on a question from a listener. She wondered how you might respond to the question, "Are you any good?"
I've been asked many awkward questions and have heard some awkward comments… 
Aren't most barrel racers tiny little things?
I didn't think barrel racers would be so feminine.
Do you make any money at that?
That must cost a lot doesn't it?
Oh – I saw barrel racers on Yellowstone.
First, consider where the question is coming from. People asking these questions often have no idea about our sport. They may not realize that they are being awkward or ignorant. 
Next, consider how the question triggered you. Recognize if there is a need to improve your self-confidence so you don't feel awkward about saying that you're good at what you do. In the meantime, you could answer "I'm still working to be my best" or "I'm getting better all the time" .
Finally, remember that people are generally just weird, not rude. People see things differently and make their assumptions based on their own reality and their own filter. You don't have to buy into their reality.
Be aware of when your insecurities are being triggered by their questions. Dig into the story you're attaching to their comment or question. Is this story you're making up true?
If someone asks you "Are you any good?", I hope you can answer them with "I find a win in every run I make". 
Join the Conversation
Join the discussion in the The Rider's Mind Community on Facebook. As a member of this community, you'll also get tips and videos from me. 
Want to connect or ask me a question? Find me on Instagram or Facebook.

Learn with Me
If you're looking to make changes to your mindset, be sure to sign up for my free Next-Level Mindset Mini Course
You can also get on the waitlist for Stride, my next-level barrel racing group. This group receives video training and coaching from me and Stride members also have access to special guests. We work on riding the stride and staying present and we strive to improve ourselves in order to be better riders and competitors.