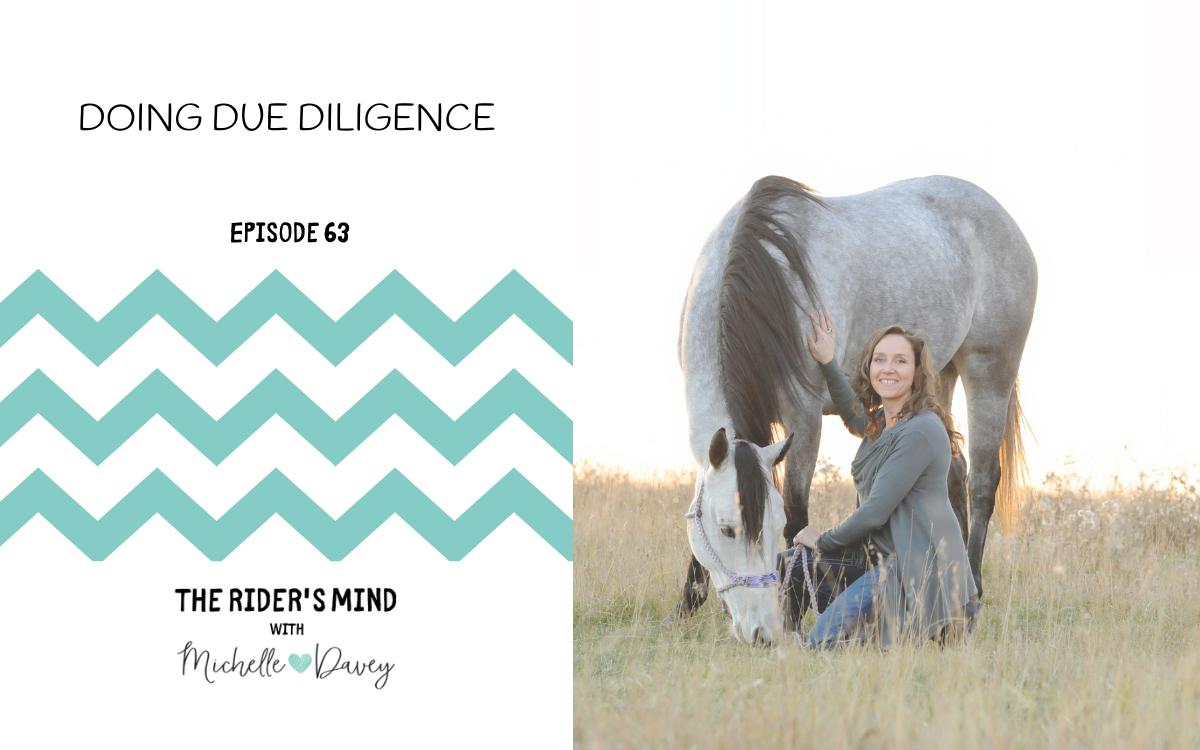 The Rider's Mind Podcast Episode 63: Doing Due Diligence
In this episode, I talk about doing your vet work and having a great equine health team on your side. You want to be your horse's best health advocate so he can show up and be his best self. 
I've seen several posts lately about how important vet work and maintenance is for our horses. If something is wrong, we should go to the vet. Even if something isn't wrong, we should have regular vet check appointments.
I believe in the value of vet work, but I also believe in following your own intuition.
I believe that if we're paying attention to our horses, we can recognize when they are uncomfortable so we can get ahead of things before we need the vet. A lot of people are not keenly aware of their horse and its needs. A lot of people aren't paying attention to how the horse feels. 
Do your due diligence for your horse: assemble a team of people who can keep your horse operating at his best. 
If we're doing things right, our horses should become stronger with time. Instead, we often see horses "fall apart". It's our job to protect our horses, to keep them healthy and safe and to help them be their best self. We don't want to cause our horses to become sore or unbalanced because of what we're asking them to do. 
We should be learning to read our own horses to avoid the pain and anxiety of running them when they are unsound. 
The vet is not always the answer. Sometimes the vet isn't the right person to fix what you have going on. Sometimes they are treating the symptom, not the cause. 
I believe what we are looking for is balance. 
Not everyone has the awareness or the feel to see that something is off. You can learn what is normal for your horse and what is not. The easiest way to gain that feel is to be present with your horse. You'll learn to see things and trust your own intuition when something is not right. 
Everyone is on their own journey and it's not likely going to look like yours. Be careful not to judge others for their horse's soundness or health. You might notice a horse is not 100%, but try not to dwell on others. People sometimes need to find things put for themselves. 
I believe in building a team that knows your horse and your style. 
Each vet has a different approach, so you have to find one that suits your comfort level. There are some that are going to be more conservative and some that will throw everything at your horse until you find something and you leave with a $3000 vet bill. It's important you find a vet that is passionate about performance horses and has a trained eye for it. 
You will also want to have a great farrier on your team who has a reputation for keeping horses sound. You might want to work with a chiropractor, osteopath or acupuncturist. An energy healer or animal communicator might also be part of your team. All types of people can be on your equine health team.
I prefer to find problems before they require veterinary intervention.
We have to be careful not to look for problems out of fear. In those cases, we are always going to find something. We can manifest issues if we are worried about them. You will find something if you look hard enough. 
I think if we only rode when the horse felt 100% and we only entered when they've been 100% for a month, we would never get to go anywhere. It really is a personal decision on what route you're prepared to take. We're always making choices.

Ideally, we want to do maintenance so that the little things don't turn into big things. 
The majority of the horses out there are fast enough to be in the 1D (according to Interval Timing data). So, if they are not running 1D, we can look at what's holding them back from being there.  Is it the lines you're taking? Is something hindering the horse's ability to achieve their natural speed? Is it you and your mindset?

This all leads back to you. You are responsible for the lines you take, you are responsible for your horse feeling its best and you are responsible for how you show up – whether it's in knowledge or mindset. 

Do the best you can with what you know right now. Try not to judge yourself for what you didn't know. Learn. Take the intel and learn the lessons from your experience. 
It's easy to want to save others from making the mistake you did. We often wish we went to the vet (or whoever) and found the answers sooner. We look back on what it cost us and we don't want others to experience the same. You can plant a seed for someone and you can share your experience, but you really can't make someone do something they aren't ready to do. 
We are all on our own journey. We will learn the lessons we need to learn at the right time.
It's good to have people on your team that can help discern things for you. It's important to have people who are not emotionally involved with the horse. It's good to have people that will be honest and say you shouldn't run this horse this weekend or giver, you're good to go. 
We want to be able to catch issues before they cause unsoundness. Sometimes, we should stay home. Turning out is hard; we want to play so bad! We have a lot invested. We have a fear of missing out. Maybe this is why we enter even when our gut says something is wrong. In these situations, I will ask myself what would it could cost if I ran my horse and it wasn't the right choice? That cost is far greater than a turnout and the loss of your entry fee at any event. 
You want to be able to show up 100% sure you and your horse can bring it.

Always do your due diligence for your horse. Do the best you can with what you know and your abilities. Sometimes problems do go away on their own, but they usually come at a cost in the meantime. 
If you can't afford to go to the vet all the time, educate yourself in modalities you can use on your own and techniques you can use for prevention. But remember: there are things that require a vet. Get a good vet on your team and learn what you can do so that you don't have to see them very often.

Learn to listen to your horse and learn to listen to your own gut. Use your own intuition and rely on a small group of people that specialize in horse care to make sure you can show up with confidence that your horse is at its best.
Join the Conversation
Join the discussion in the The Rider's Mind Community on Facebook. As a member of this community, you'll also get tips and videos from me. 
Want to connect or ask me a question? Find me on Instagram or Facebook.

Learn with Me
If you're looking to make changes to your mindset, be sure to sign up for my free Next-Level Mindset Mini Course
You can also get on the waitlist for Stride, my next-level barrel racing group. This group receives video training and coaching from me and Stride members also have access to special guests. We work on riding the stride and staying present and we strive to improve ourselves in order to be better riders and competitors.