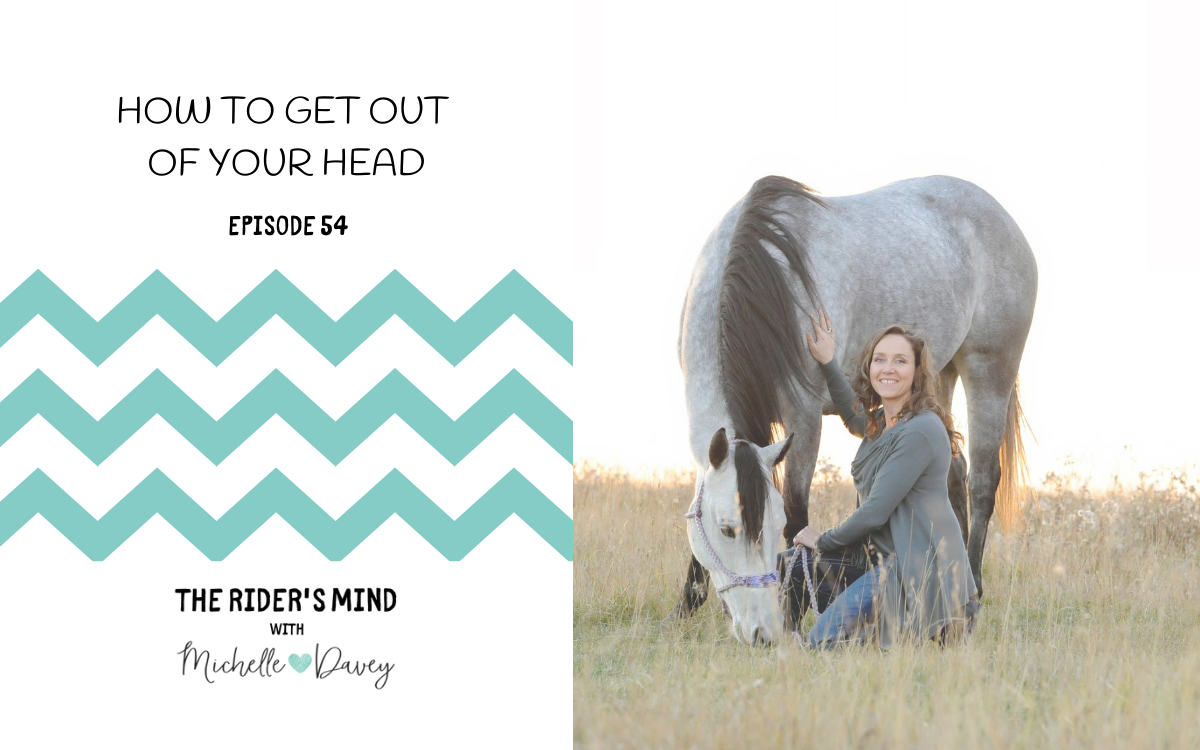 The Rider's Mind Podcast Episode 54: How to Get out of Your Head
What is "being in your own head"?  
It's that "monkey mind" way of thinking. A lot of the time it is our fears being put into words and thoughts. All of your what ifs and worries come out. Recognize that you can change this thinking. You can influence your thoughts and have kinder thoughts.
In this episode, I have a few suggestions of how to get out of your head.
There will always be thoughts running through your mind, but you can choose to have a kinder friend in your head.  
Eckhart Tolle teaches the idea that you are not your thoughts.  You are the observer of your thoughts.  You are the thinker of your thoughts.  
Imagine yourself as a spirit in your body.  Part of the human experience is having a brain that thinks.  However, you are so much more than just a brain. There is a soul inside of you.  
You are an observer of thoughts. Take a step back and look at your thoughts. When you notice thoughts coming up, try thinking "isn't that interesting".  Once you are more aware of your thinking, you can influence your thoughts to be kinder.  You can also choose to go somewhere other than your thoughts.
To get out of your head, you need to go somewhere else.
Try going into your soul, your heart, your higher self. Go to the void – that space you're in when you're "in the zone" during competition.  It's like a meditative state.  It's a subconscious place where your body does things automatically. 

How can we practice getting out of our head so our bodies can take over and be "in the zone" during competition?
Practice placing a hand on your heart and taking deep breaths.  By focusing on your breath, you get out of your head and go somewhere else.  It's that simple to make a change.  If I asked you to do this when you're on deck at a barrel race, it might be harder. That's why it is important to practice getting out of your head before you enter the arena.  
Prepare yourself and prime your mind.
Mental preparation should take place all week long so you can be present and ride the stride when it's time to show up and compete. Whether it's a fast event or a slow event or just practice, you need to be present. If your ride isn't going as planned, try stopping to take a deep breath and reset. When you're present, you'll likely be able to achieve your intention for the ride in a much shorter time.
Another way to practice getting out of your head is to have a meditation practice. Meditation is about being present (it isn't about not thinking).  You can do a walking meditation, a guided meditation, a long meditation or a short one.  I suggest starting with a short, guided meditation.  You could try Insight Timer, Calm or Headspace to get started. 
If you feel like you don't have time to meditate, you need to meditate. It will open up so much space in your day because you'll have clarity and focus.  
Allow your thoughts to float on by and notice when you become uncomfortable.  Meditation is a very powerful practice you can adopt. Start with a short session and learn to notice your thoughts.   
Recognize that you are not your thoughts – you are so much more.
Practice using your breath. Practice meditation so that you can move out of your thoughts and into your heart.  Then you'll be ready to sit in the alley and take a deep breath to get present and ride the stride. 
Join the Conversation
Join the discussion in the The Rider's Mind Community on Facebook. As a member of this community, you'll also get tips and videos from me.
Want to connect or ask me a question? Find me on Instagram or Facebook.

Learn with Me
If you're looking to make changes to your mindset, be sure to sign up for my free Next-Level Mindset Mini Course.
You can also get on the waitlist for Stride, my next-level barrel racing group. This group receives video training and coaching from me and Stride members also have access to special guests. We work on riding the stride and staying present and we strive to improve ourselves in order to be better riders and competitors.