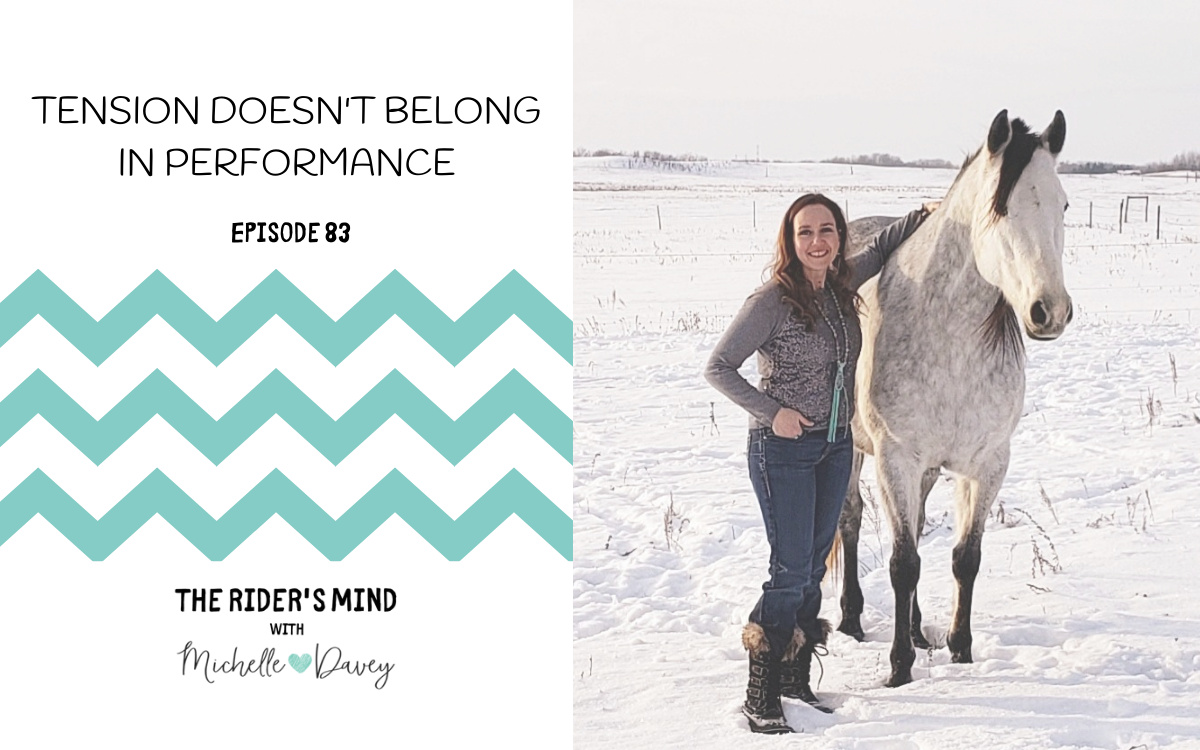 The Rider's Mind Podcast Episode 83: Tension Doesn't Belong in Performance
In this episode, I'm going to have you tune into your energy when I talk about performance in two different ways. I want you to notice which one feels best to you.  I also want you to think about which one your horse will receive the best. 
Last episode, I talked about presence.  Today, I'm talking about performance.  Presence and Performance are two pillars of my Mindful Barrel Racer Framework, along with the third pillar of Partnership. 
Mindfulness is the practice of purposely focusing your attention on the present moment—and accepting it without judgment. It takes practice.  It can even become a daily practice. Learning to be more mindful can improve your ability to perform.

The Performance pillar of my Mindful Barrel Racer Framework is about being competitive, but also mindful. Mindful competitors have the ability to achieve an ideal performance state. They are tenacious and resilient.  They can draw on their true, inner confidence when needed. This pillar comes more easily once we've mastered the partnership and presence pillars. 
Being strong in the performance pillar means you're able to maintain focus, ride the stride and perform "in the zone". You're present in the moment for every stride.  
Achieving "the zone" does not need to be hard.  You don't need to hustle or try harder.  You don't need to grind it out.  You don't need to whip and spur. 
How does it feel when you think of performance as….
Hustle hard

Try harder

Toughen up

Cowgirl up

Grind it out

Whip n spur
For me, that description causes tension in my body.  Tension in our bodies = tension in our horses.  And tension causes resistance. 
There is no place for tension and resistance when you're looking for a smooth and fast run.  
We can become smooth and fast through more mindfulness.  We can develop a resistance-free connection with our horse by focusing on presence and partnership. We can be both competitive AND present.  We can find synergy and connection.  We can have happy, relaxed horses. 
Those runs you watch that give you goosebumps don't come from the whipping and kicking.  They come from synergy and partnership and connection. 
How does it feel when you think of performance as….
Smooth and fast

Competitive, but present

Synergy

Happy horse & happy rider

Riding the Stride
Which approach do you think your horse would prefer?
What does your horse have to say about your performance and your ability to communicate?

How your horse feels about what you're doing is going to show on the clock and in your results in the arena.
If you're in the saddle this week, I challenge you to think about this question: If my horse's performance is an indicator of how I'm communicating, how am I doing?
Join the Conversation

Join the discussion in the The Rider's Mind Community on Facebook. As a member of this community, you'll also get tips and videos from me. 
Want to connect or ask me a question? Find me on Instagram or Facebook.

Learn with Me

If you're looking to make changes to your mindset, be sure to sign up for my free Next-Level Mindset Mini Course.
You can also join Stride, my next-level barrel racing group. This group receives video training and coaching from me and Stride members have access to special guests. We work on becoming mindful barrel racers so we can show up, be present and perform with great partnership.