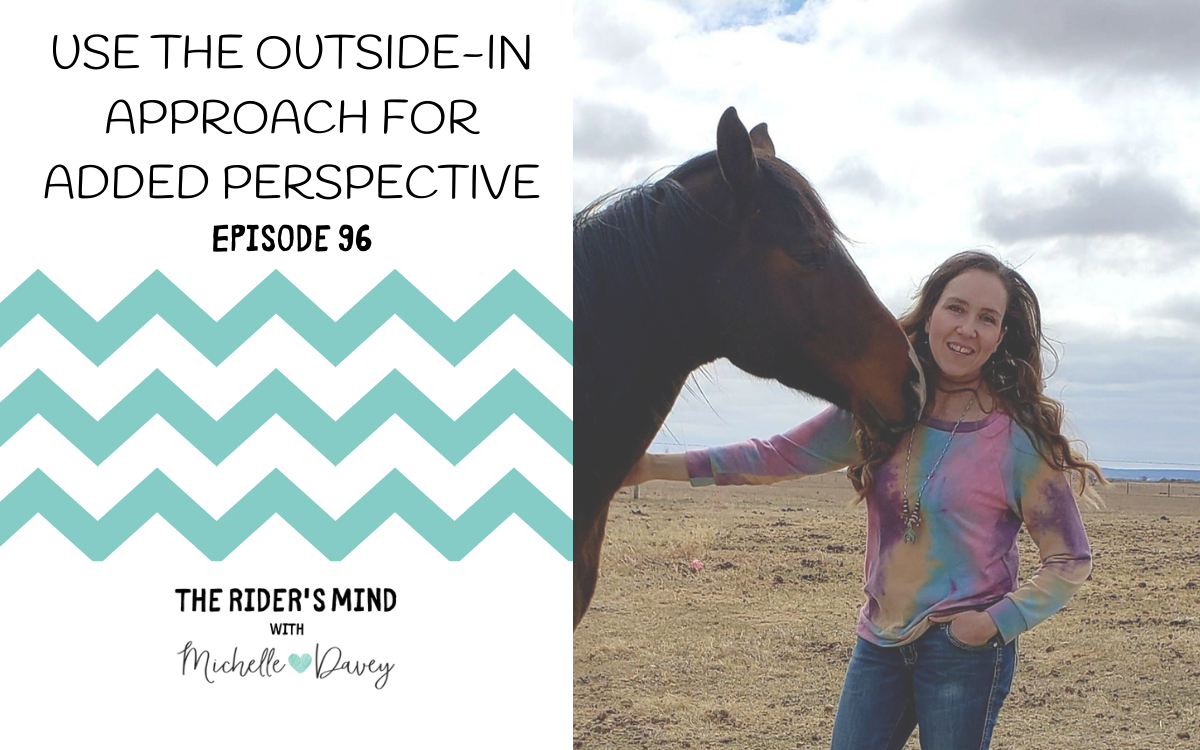 The Rider's Mind Podcast Episode 96: Use the Outside-in Approach for Added Perspective

I have a couple of approaches for you to use when you don't see the way out of your situation and are having trouble finding answers to your problems. These are strategies I use when I'm in a sticky situation and I think you can put them to the test too.  Sometimes taking a different perspective can help you find a way forward. 
You can use the outside-in approach when you need to gain some perspective.
When you look at your situation from an outside perspective, it can help you separate the situation from the feelings that might be clouding your judgement. When we're overwhelmed, we look through a filter of frustration, overwhelm and discouragement.  All of these emotions get in the way of us making a good decision. 
When we're in the situation, we're too close to it. 
As they say, "we can't see the forest for the trees". We're in the thick of it.  The solution is not clear because we are buried in emotions. Things feel hard and impossible.  You bump up against walls everywhere.  Our problems and challenges seem very big and heavy.  We just don't see the best way out.
Solution: Look at things from the outside in. 
3 ways to take a different perspective: 
Imagine someone else is in the situation and think about the advice you would give them.

Imagine you're the star of a reality TV show and you're on stage with everyone watching you. 

Imagine your scene in a box on the table and look down over it. 
Taking these different perspectives lets you separate the emotions from the situation. You don't judge as harshly. 
Looking from the outside-in doesn't mean that your problems aren't problems or that you shouldn't feel the way you feel, but it does allow you to see that you have way more going for you than this situation at this moment right now. 
It reminds you that you can overcome this and the scene will end. The moment will not last forever.  
This outside-in method allows you to step away and out of all the emotions you're feeling and come at it with a different approach. 
I think you can use this approach in the heat of the moment and also when you want to sit back and reflect on bigger challenges or even to help take the pressure off you might feel when you're trying to achieve goals. 
If you're in a difficult situation, think:
What would you say to someone else in this situation?   
How does this look from space or on a stage?
Looking from the outside-in gives you an opportunity to reflect on the issues from a different angle or perspective without seeing everything from where you're buried in all the feelings of the event. 
Join the Conversation

Join the discussion in the The Rider's Mind Community on Facebook. As a member of this community, you'll also get tips and videos from me. 
Want to connect or ask me a question? Find me on Instagram or Facebook.
I'm now on Clubhouse too!  Find me @michelleadavey
Learn with Me

If you're looking to make changes to your mindset, be sure to sign up for my free Next-Level Mindset Mini Course.
You can also join Stride, my next-level barrel racing group. This group receives video training and coaching from me and Stride members have access to special guests. We work on becoming mindful barrel racers so we can show up, be present and perform with great partnership.