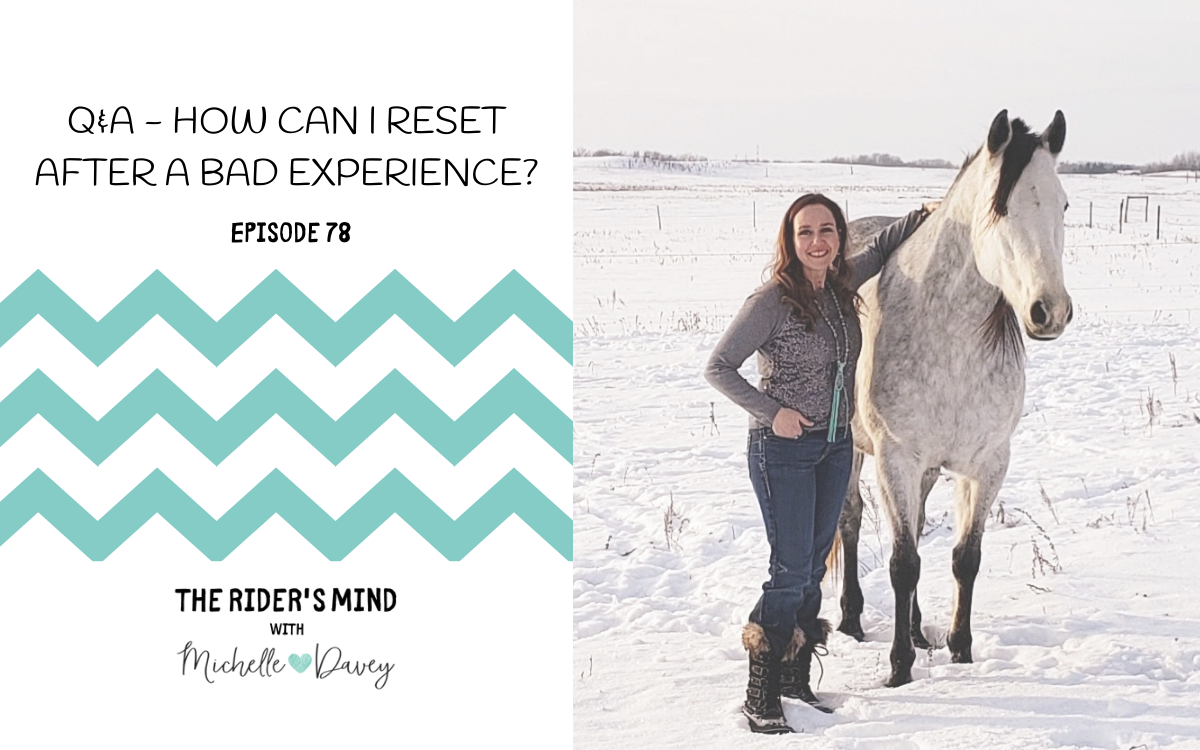 The Rider's Mind Podcast Episode 78: Q&A – How can I reset after a bad experience?

This Q&A episode will help you overcome a challenging incident with your horse. If your horse has run up the wall, tripped and fell, struggled at the gate or faced some other challenge, try these strategies to help you reset after a bad experience.  
A listener asked, What are some tools, activities or practices that I can use to reset after a bad experience?  
In this situation, the horse had a bad fall at third barrel. Eventually, the horse started running up the wall at first barrel.  In this case, the vet work and bodywork has been done and the rider is looking for some mental work. The issue started with a horse injury and developed into a mental problem for both the rider and the horse. 
The first thing that came to mind was to go to the opposite barrel first for a while. If you don't want to do that, I would approach first cautiously and only go faster as I feel confident. I would also ride with two hands as long as I could. 
In addition, there's "inner work" you can do. Imagine the events of the past and put those events in an imaginary ball in front of you. Try not to replay it over and over, but visualize a freeze frame. Take your hands and move that imaginary ball behind you. You can also set your intention to do that on behalf of your horse. 
You can also imagine over and over in your mind what you do want to happen. Take note  if you start thinking about what you don't want to happen. If you can't overcome this in your imagination, it will be hard in real life.  Notice the tension in your body when you're doing this.  Breathe into it and release out the tension.

Don't rely on your runs at home to tell you if you're "good".  You're going to have to enter and put yourself out there. Riding with two hands will help it feel different from before and will give you more control.  Remember, back off on your line to first for a while until he is confident and you'll feel him stay a little more relaxed. He needs the positive experiences in competition to believe he's okay.
If you're finding that you're more nervous now, get a handle on that through grounding and breathwork.  Have no expectations, just a plan to build his confidence one run at a time. 
Stay on top of your maintenance. Even though he's running good again, you don't want it to get so far again before he shows you.

Forgive yourself for what you didn't know and pledge to do better for every horse going forward. You'll get through this. 
Join the Conversation

Join the discussion in the The Rider's Mind Community on Facebook. As a member of this community, you'll also get tips and videos from me. 
Want to connect or ask me a question? Find me on Instagram or Facebook.

Learn with Me

If you're looking to make changes to your mindset, be sure to sign up for my free Next-Level Mindset Mini Course.
You can also get on the waitlist for Stride, my next-level barrel racing group, which will be open for enrollment soon! This group receives video training and coaching from me and Stride members have access to special guests.  We work on becoming mindful barrel racers so we can show up, be present and perform with great partnership.