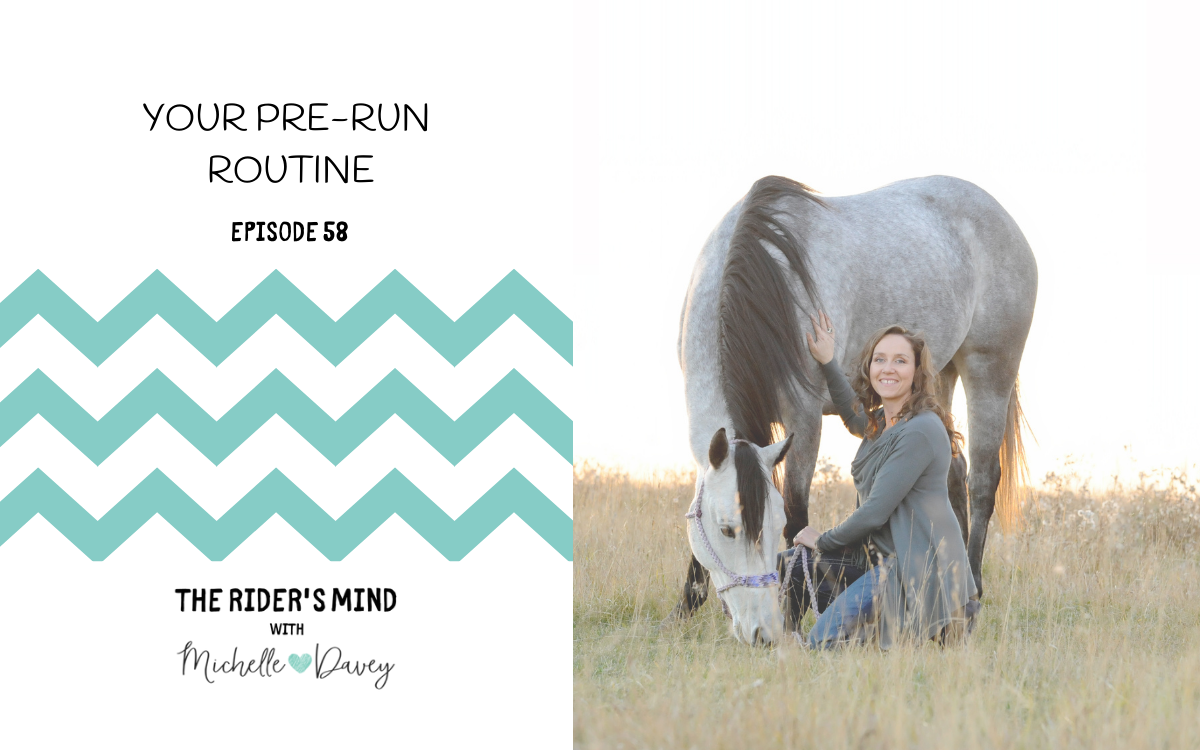 The Rider's Mind Podcast Episode 58: Your Pre-run Routine
In this episode, I talk about the pros and cons of having a pre-ride or pre-run routine. My horses find a lot of security in my pre-ride routine and this can also apply pre-competition. 
There's something to be said for a good routine. 
I think a routine can be an asset to you if you're dealing with pre-performance nerves. There are benefits to having a routine you can follow and find confidence in. 
There are both pros and cons to having a routine. Know yourself and know what works for you. Everyone benefits from a routine, but you might also need to be flexible and roll with it sometimes. 
Your routine is something you can focus on and control when it seems there is a lot going on that you're not in control of.

There are many things that are out of our control at a competition. Focusing on those things can take your attention away from important aspects you can control. A routine can help you feel grounded and focused.
Horses love routine.

Horses thrive on routine. Some horses need routine more than others. Nervous or anxious horses can especially benefit from routine.
I've seen people on both ends of the spectrum when it comes to routine. There are competitors that are superstitious and religious with their routines and those that wouldn't remember what they did a minute ago to repeat the same thing the next time. People who are superstitious and religious about their routine tend to be more fragile when things don't go according to plan. People who have practised being more flexible are less likely to get flustered if unexpected changes occur. 
It's a good idea to be flexible in your routine. 
Different horses may need different routines. Your routine may need to change over time. Have a routine in place, but let it be one that you can mold and shape. Be prepared to adapt and evolve. 
If you get too rigid in your routine, you're more likely to break. 
Avoid a rigid structure to your routine because it might be breakable and crumble under pressure. You don't want to find yourself flustered because you couldn't precisely follow every step of your routine. Being flexible will allow you to adapt to the situation. 
Your horse will gain security and confidence from knowing what it is next and you will too. 
When we are nervous and flustered, we have a harder time staying grounded and planning what is next. You can make it easier for yourself by having a routine. 
Know that every horse will thrive under a different program.  
In order to read what works for each horse, we have to be present, aware, and perceptive.  We have to be able to read what's working for them, not just what works for us.
Join the Conversation
Join the discussion in the The Rider's Mind Community on Facebook. As a member of this community, you'll also get tips and videos from me. 
Want to connect or ask me a question? Find me on Instagram or Facebook.

Learn with Me
If you're looking to make changes to your mindset, be sure to sign up for my free Next-Level Mindset Mini Course
You can also get on the waitlist for Stride, my next-level barrel racing group. This group receives video training and coaching from me and Stride members also have access to special guests. We work on riding the stride and staying present and we strive to improve ourselves in order to be better riders and competitors.