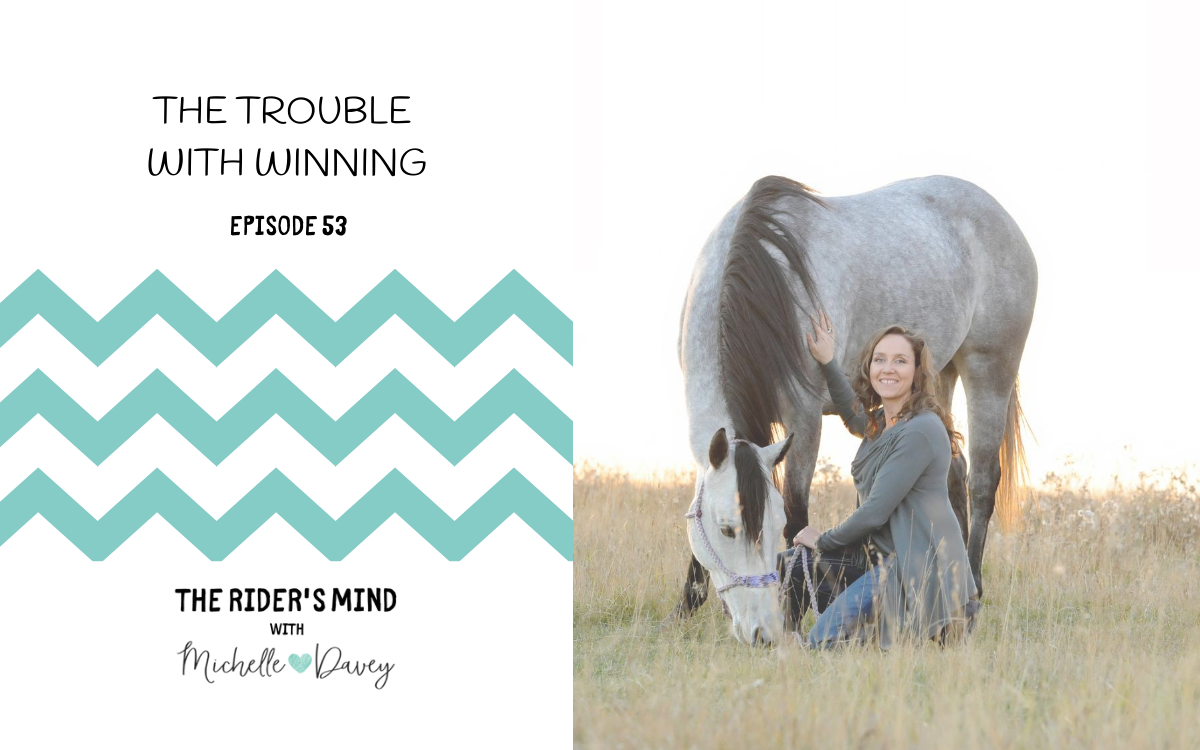 The Rider's Mind Podcast Episode 53: The Trouble with Winning

We work hard for it and we finally get it: we WIN! …but then comes the trouble with continuing to win and not choking because you have an expectation of winning…
How could there possibly be trouble with winning?!
We work so hard to achieve that first big win, but then we sometimes succumb to the pressure and expectation of being able to win again. This is when choke happens and we find ourselves disappointed.
Sometimes we start to think Was I a one-run wonder? or Can I do this again? or Now people are watching me. We love the feeling of winning and we fear going back to the feeling of not winning. You might start the thought pattern of if I don't win, it means… (insert your story here).
When we get into the pressure of having to duplicate a win, we end up trying to make a win happen again. Anytime we try to make something happen, we aren't in the flow and we aren't in the energy of allowing a win to happen. 
It takes a lot of mental fortitude to STAY in a winner's vibe.
Especially if you've had a "surprise win" and you don't believe you should be there, it can be very challenging to win again. If you're shocked to be there or you don't feel deserving, you might need to do some work on the inside (think about joining my Stride group to get started with this work). 
Any time we start focusing on where we want to be, we end up setting an expectation and our energy gets out in front of us. 
It's important to know our goals, but we also need to focus on the actions to get there. We want to ride in the present moment. We want to breathe deep, stay present and ride the stride. We need to be free of expectation and free from fear of disappointment. That presence is where the magic happens. 
Our horse needs us to be in the moment and take it one run at a time. 
We need to ride right for our horse. Ask yourself, What does my horse need from me right now? 
Winning puts us into an energy we might not be used to handling. We end up taking expectations with us and that shifts us out of the present moment. Whenever we aren't in the present moment, we lose some of our feel and timing.
To get back to your ideal performance state, you need to breathe deep, stay present and ride the stride.
Join the Conversation
Join the discussion in the The Rider's Mind Community on Facebook. As a member of this community, you'll also get tips and videos from me.
Want to connect or ask me a question? Find me on Instagram or Facebook.

Learn with Me
If you're looking to make changes to your mindset, be sure to sign up for my free Next-Level Mindset Mini Course.
You can also get on the waitlist for Stride, my next-level barrel racing group. This group receives video training and coaching from me and Stride members also have access to special guests. We work on riding the stride and staying present and we strive to improve ourselves in order to be better riders and competitors.