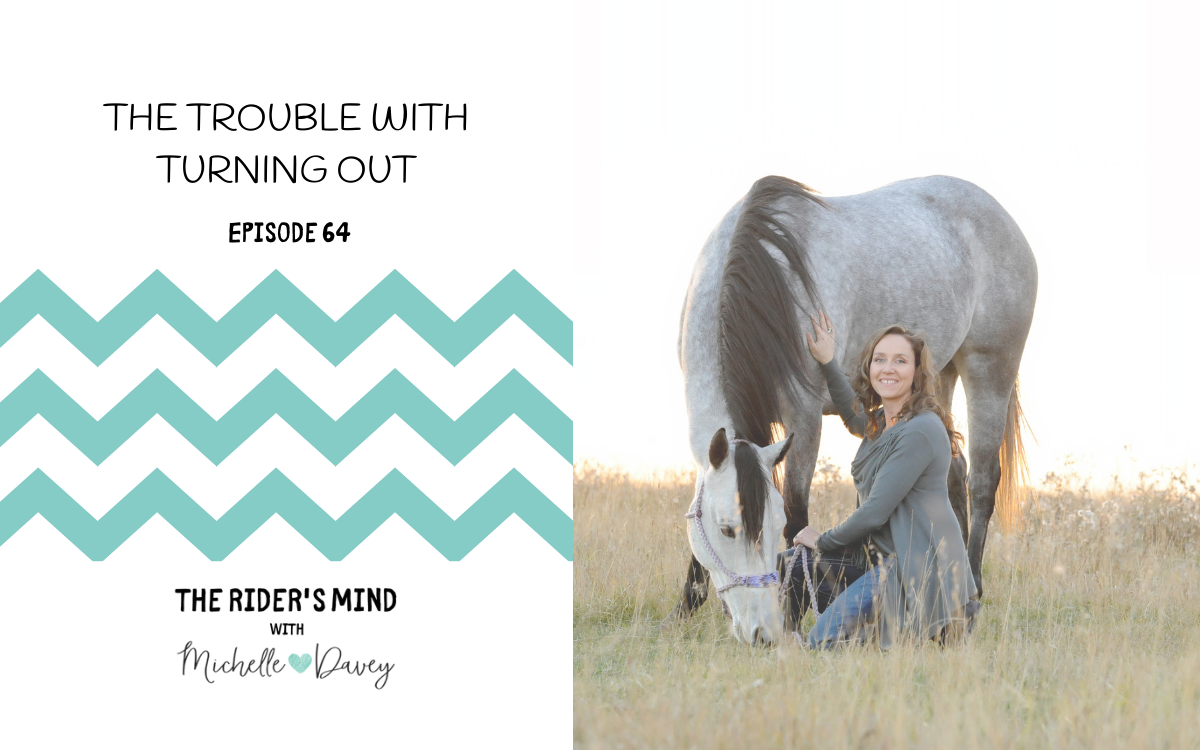 The Rider's Mind Podcast Episode 64: The Trouble with Turning Out
Nobody wants to be a quitter. Everybody wants a chance to play, but sometimes you have to make the tough decision to turn out of an event. In this episode, I share what goes through my mind when I consider not following through with my commitment to enter an event. 
What is it about the feelings we have around turning out of an event? When you've set the intention to go, but you can't follow through and compete it can be really hard. Whether the ground isn't great or the weather isn't good or something's not quite right with your horse, you know it's not in your best interest to compete…but you still want to be there. This can cause an inner struggle. 
What makes us want to compete when it doesn't really serve us well? 
I tend to make it about the lost money: losing entry fees or paying turn out fees feels like throwing money out the window. Really it's not about money, because there is never any guarantee on our investment anyway. Plus, if we run in less than ideal conditions, we could put our horse at risk and lose the entire value of our horse. We are prepared to lose that entry fee money, but it was in exchange for the thrill of playing. I think that's what we miss: the thrill of competition.  
You might think you need to compete because if you turn out, it feels like a waste of all of the time spent preparing for the event. 
You might have FOMO: fear of missing out. You feel like you're missing out on a chance to do well. You want to be there and have fun with everyone else. 
You want the thrill of the game. There's a chance to win. There is that moment of fame to long for. 
You might want to showcase the horse. You want to show the world how great your horse is. You want to increase your horse's lifetime earnings and therefore increase her value. 
You might also have to deal with feeling like a quitter. It can be bothersome to not follow through with something you've signed up for. It feels like going back on your word. 
There are a lot of factors to consider when deciding whether to compete or to turn out. 
Weigh the pros and cons. Consider: What do I have to gain? What do I have to lose? Often what you gain is immediate gratification, but you need to consider the long term mental and physical cost to your horse. 
Ultimately, it comes down to a personal decision.

Know your own values and what's important to you. If winning is more important than partnership and mutual respect with your horse, then you might make a different decision than someone who values the long game more than today's win.

Make sure that whatever you decide, you can stand behind your decision. 
If you're going, make sure you're all there. You don't want to show up and wonder if you should be there. Your horse will know if you have hesitations. Fully commit one way or the other. 
Remember, if you feel it's best to sit it out, even if you really want to go, sometimes your plan is not THE plan. Find peace in this possibility. Surrender to the possibility that if you don't go, there might be something bigger waiting for you. 
Join the Conversation
Join the discussion in the The Rider's Mind Community on Facebook. As a member of this community, you'll also get tips and videos from me. 
Want to connect or ask me a question? Find me on Instagram or Facebook.

Learn with Me
If you're looking to make changes to your mindset, be sure to sign up for my free Next-Level Mindset Mini Course
You can also get on the waitlist for Stride, my next-level barrel racing group. This group receives video training and coaching from me and Stride members also have access to special guests. We work on riding the stride and staying present and we strive to improve ourselves in order to be better riders and competitors.