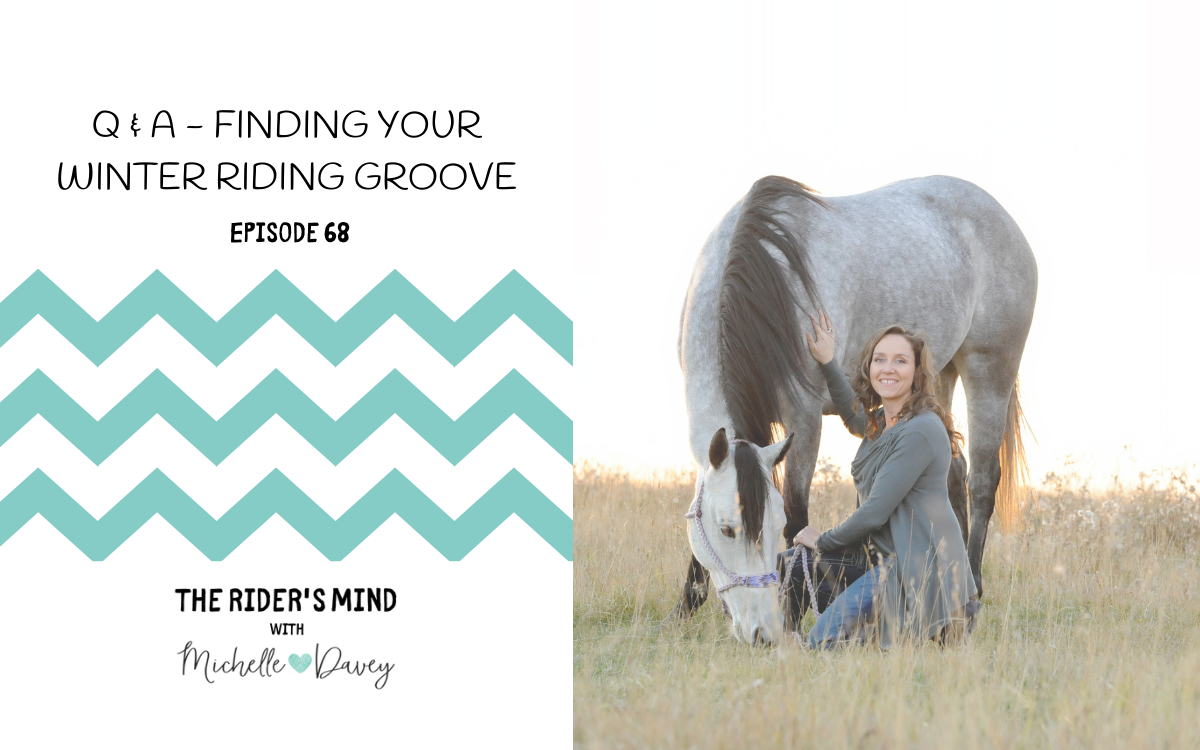 The Rider's Mind Podcast Episode 68: Q & A – Finding Your Winter Riding Groove
Are you a fair weather rider? It can be hard to get motivated to ride on cold winter days. This episode is based on a listener question from the The Rider's Mind Community and I'm talking all about finding your winter riding groove (or not…)
Question: I know your podcast audience is international, but what are some tips and tricks to keep your "groove" going over the winter? I find that if I take the whole winter off, I don't really get rolling again until mid-summer. If I try to keep going all winter, I can get burned out.

It gets very cold here in Manitoba. Sometimes we experience -30 degrees Celsius or colder throughout the winter. I'm not really interested in riding if it's colder than -15. Even if you have a plan to ride all winter, it can be easy to stray from that plan when it gets gold. 
Answer: When it comes to winter riding, I think you need to find a balance. 
You don't want your horses to be really out of shape because you didn't ride at all for months, but you also might not be motivated to ride every day. You need to find what works for you and helps you meet your goals. 
Here are my suggestions for winter riding:
Don't get stuck in the "shoulds". 
Be careful you're not tiring yourself out with what you "should" be doing. Avoid telling yourself "I should go ride or I should just bundle up and do it."
Make a plan based on your goals and timeline.
Ask yourself:
What are your goals for next year?
When do you need to start getting ready and what will that look like?
Are these goals what you want to do in your heart or what you think you "should" be doing?
When are the events you want to attend and how many runs do you want to have made before that?
Your horse does need a certain level of fitness to be able to compete, but if you know what you're aiming for, you can create a schedule that works for your goals. You might commit to riding twice per week and then look at the forecast and choose the nicest days to ride. 
If you want to enter a race in March, you might need to ride quite a bit in January and February. You might choose to board your horse or find an indoor arena to ride at if this is your goal and your timeline. 
Think about when you want to peak.  
Winter riding might not be a priority depending on what you're aiming for. For example, you can start running futurity horses on November 15, but if you're planning on running that horse all winter, you're running the risk you will have a pretty tired 5 year old come next fall. 
There is a lot of value in time for rest and repair. 
It's okay to make the decision to take a couple of months off and only ride if you really feel like it. 
A break can be valuable. For example, I've seen several horses do well with their COVID break. Consider all the fast times the professionals were making at rodeos this year. Their horses were fresh when they hit those particular rodeos this year instead of having made 40 runs before they got there.

Consider what else you can work on besides riding.
There are other things you can do to work towards your goals when you're not riding. You might commit to exercise or personal growth. 
Consider:
Is there a fitness program you want to work on?
Are there personal development activities you can do?
What other activities would elevate you and make you happy?
How can you work on your health and mindset?
Join the Conversation
Join the discussion in the The Rider's Mind Community on Facebook. As a member of this community, you'll also get tips and videos from me. 
Want to connect or ask me a question? Find me on Instagram or Facebook.

Learn with Me

If you're looking to make changes to your mindset, be sure to sign up for my free Next-Level Mindset Mini Course.
You can also get on the waitlist for Stride, my next-level barrel racing group. This group receives video training and coaching from me and Stride members also have access to special guests. We work on becoming mindful barrel racers so we can show up, be present and perform with great partnership.